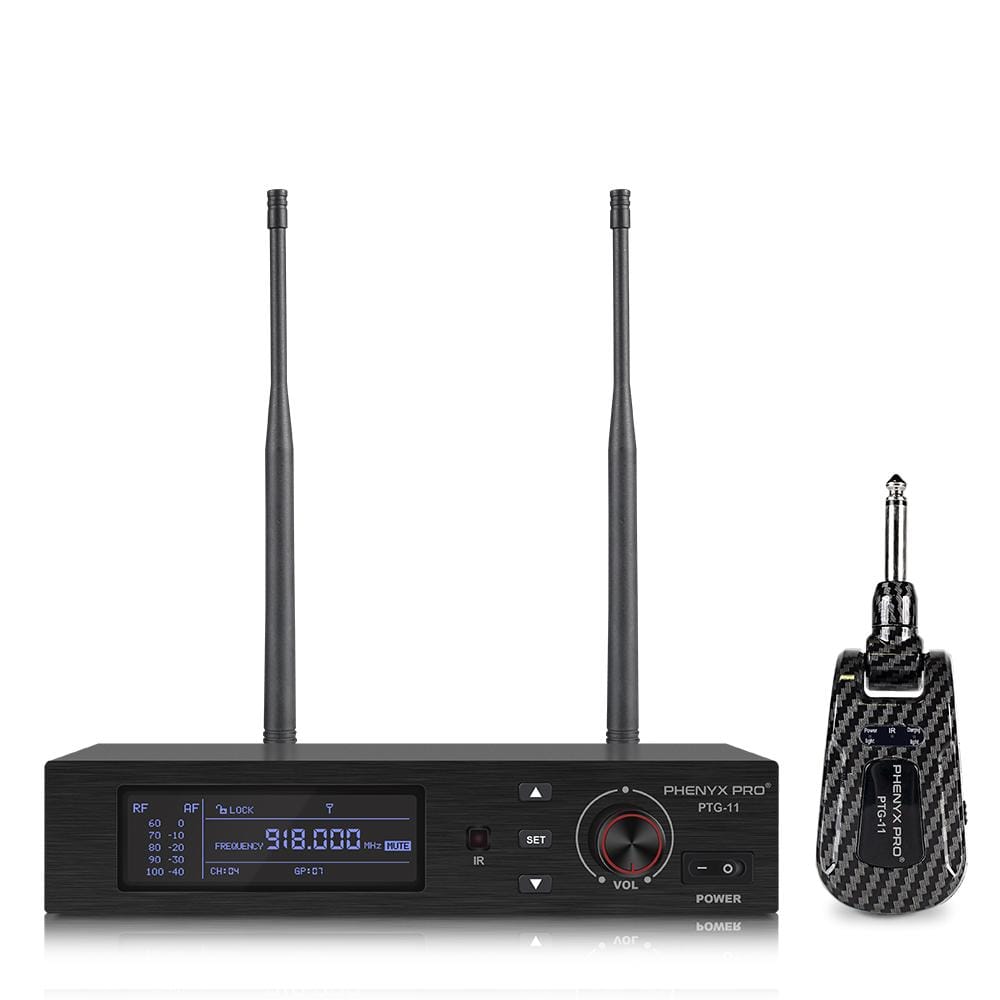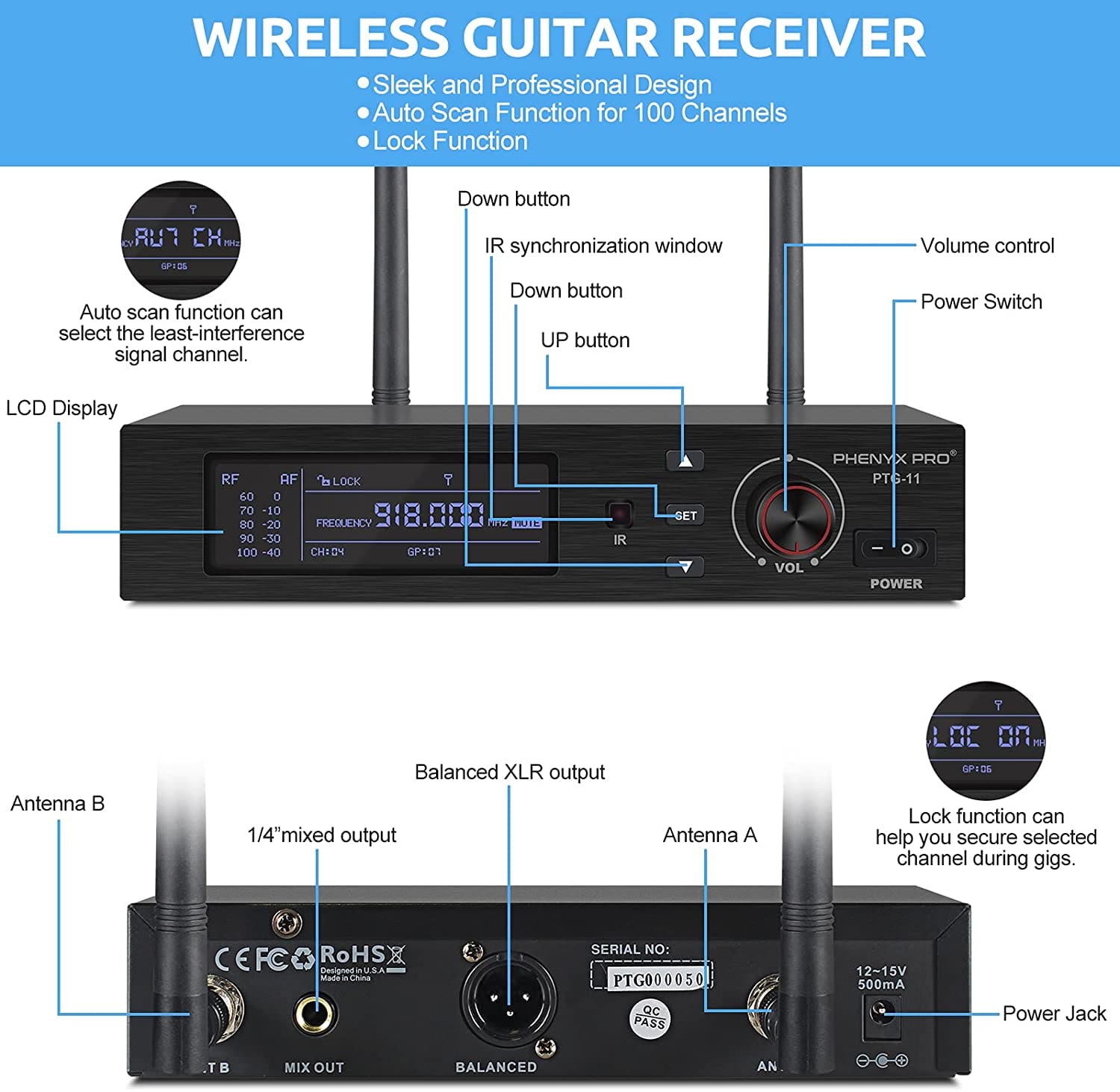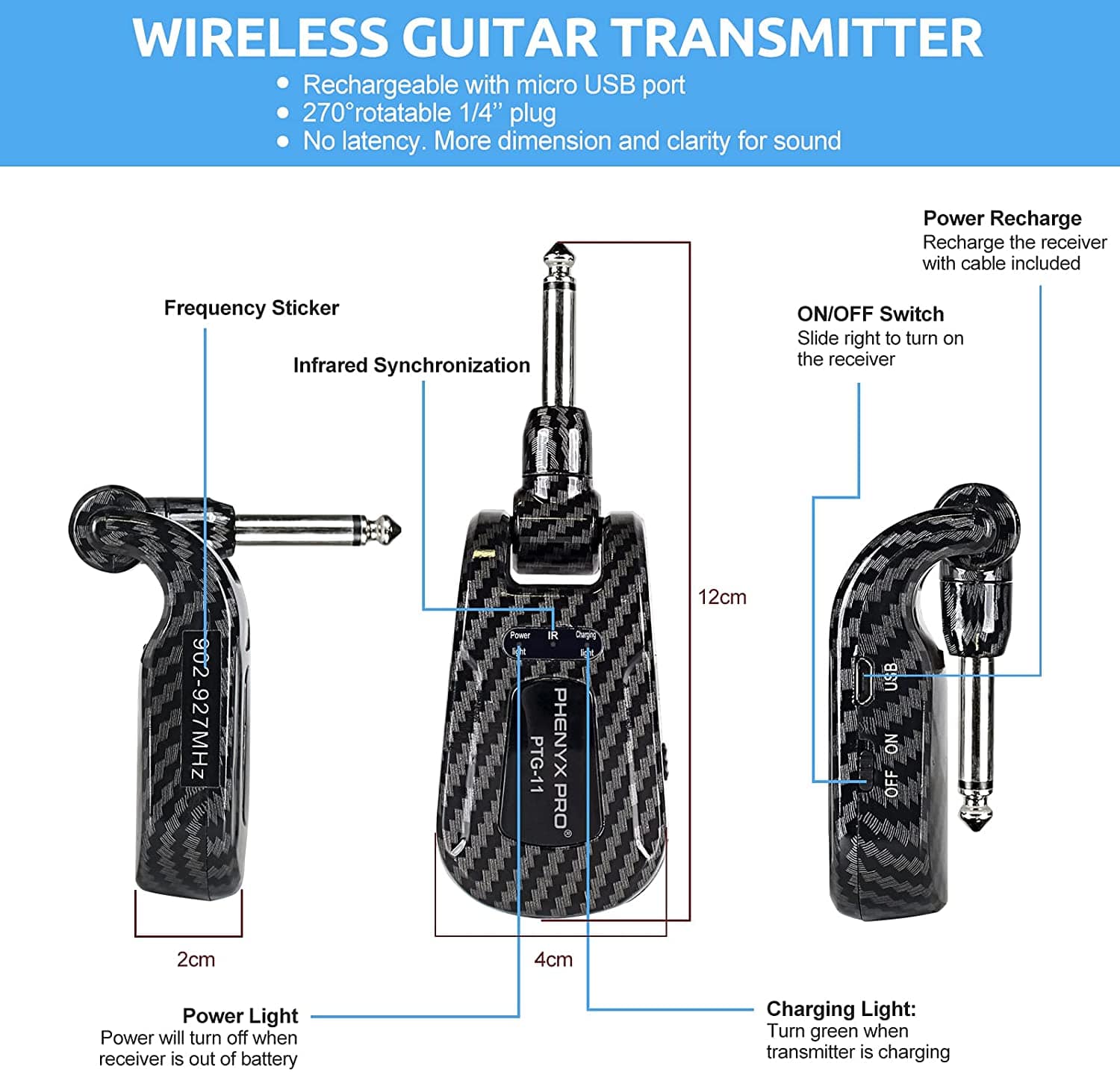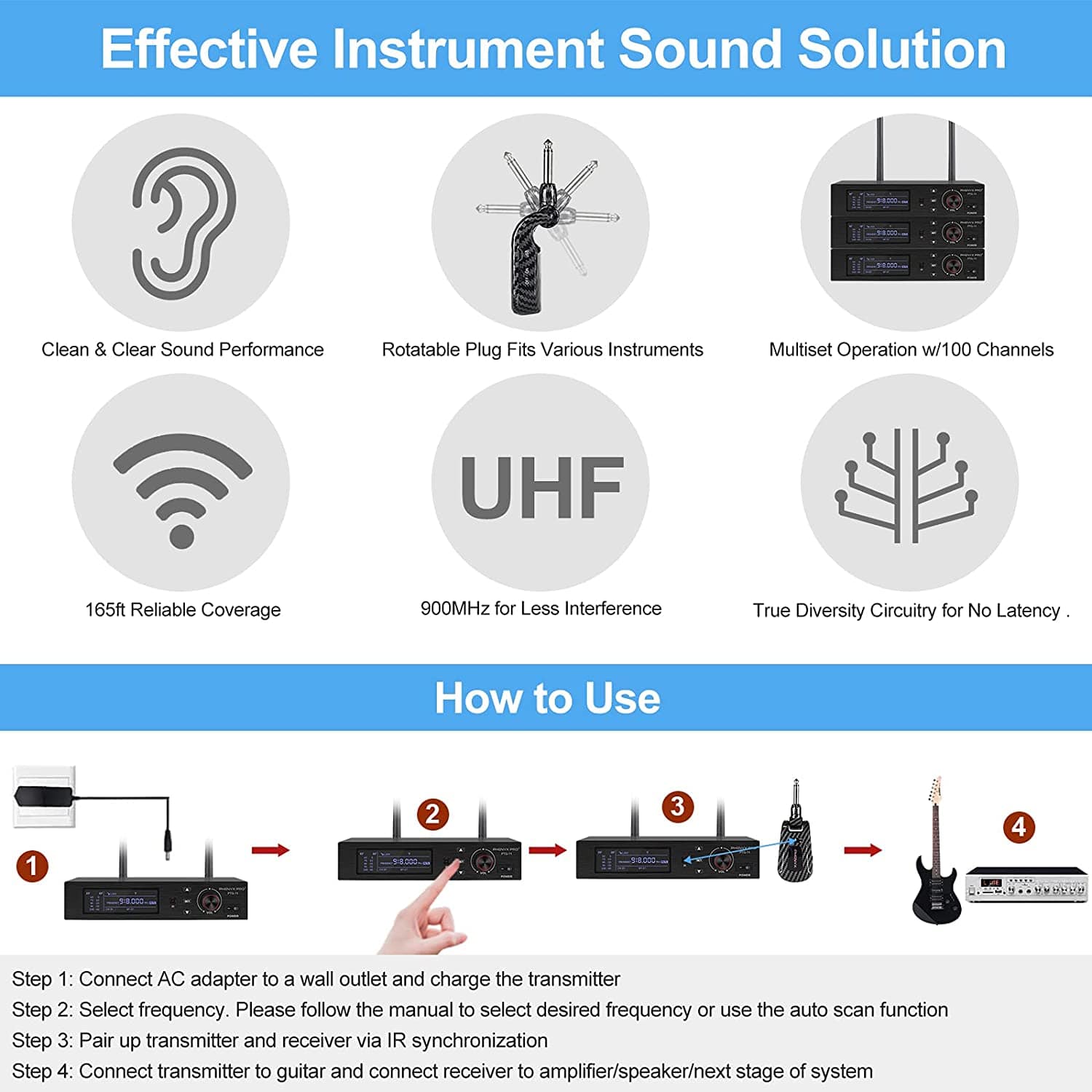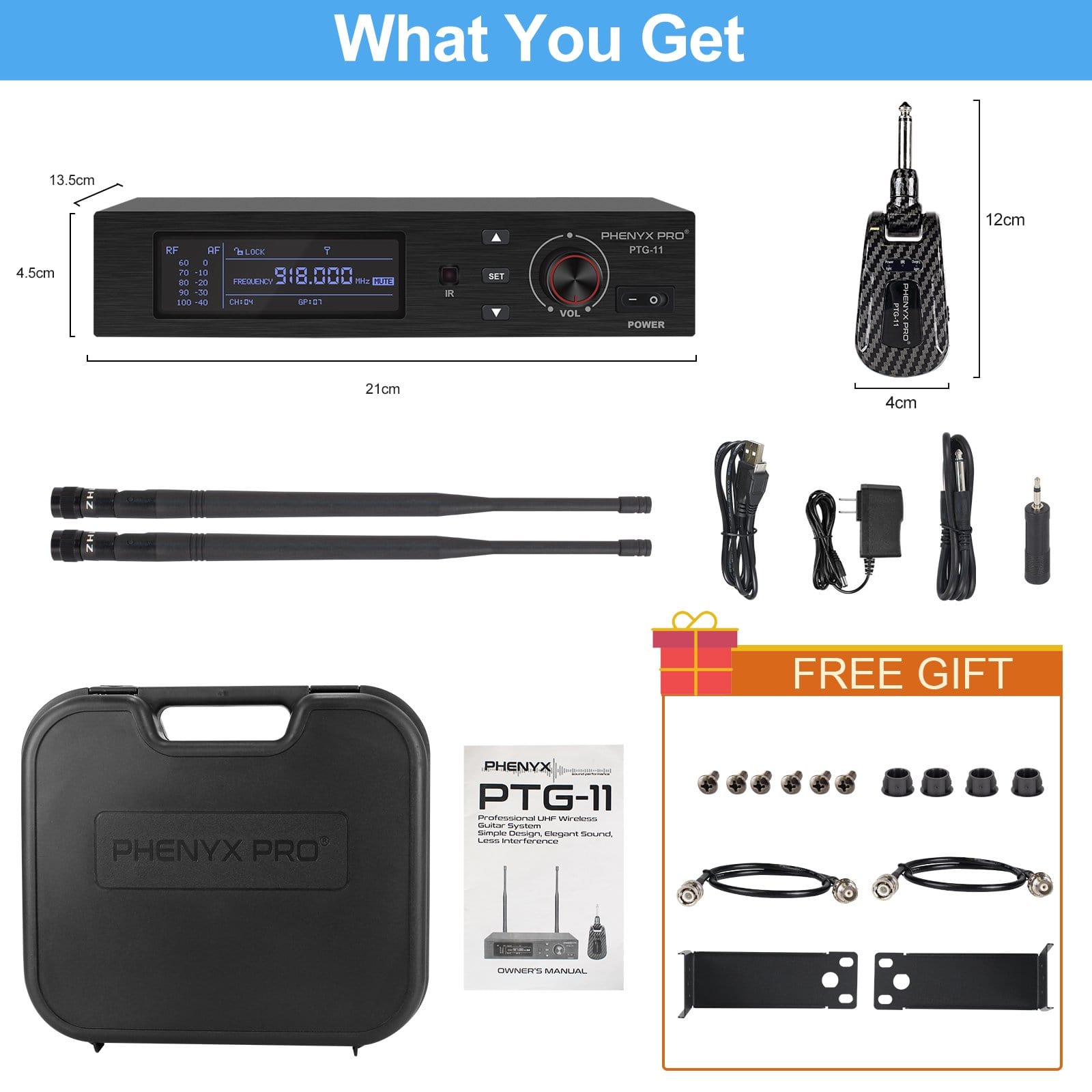 Phenyx Pro PTG-11 UHF True Diversity Wireless Guitar System with 100 Channels (902 - 928MHz)
RELIABLE WIRELESS OPERATION: This UHF wireless guitar system features UHF band from 902MHz to 928MHz, less susceptible to audio interference compared to VHF and digital signal. The metal build cordless receiver and high-quality transmitter ensure great durability. This wireless instrument system has state-of-the-art true diversity circuitry design to ensuresmooth and reliable wireless transmission. 165ft coverage in wide-open space line of sight

PROFESSIONAL SOUND PERFORMANCE: The cordless guitar set delivers clean sound without statics, hiss, or humming. No dropouts or cut off, NO LATENCY or DELAY. Broad frequency response adds dimensions and clarity to uncompromised instrument sound. The wireless guitar transmitter set features 100 channels, which enable more than 30 sets to be used at the same time in live shows or small gigs. A professional kit for both stage and studio

COMPATIBILITY & RECHARGEABLE FEATURE: The rotatable 1/4'' plug on the transmitter can be plug directly into the instrument input jack in any position. The micro USB port on the transmitter makes it easy to recharge (2-3h charging for up to 4h continuous operation). The wireless guitar set works well with electric guitar, acoustic guitar, bass, and other instruments. Ideal for studio recording, outdoor events, live shows, stage performances, or small bands. Works with both PASSIVE and ACTIVE pickup

BOX CONTENT: 1 x Metal wireless guitar receiver, 1 x Rechargeable Guitar Transmitter, 1 x Audio cable to recharge the transmitter, 1 x Power Adapter, 2 x Antenna, 1 x 1/4'' Audio Cable, 1 x User Manual

DEVOTED SERVICE: Genuine Phenyx Pro audio products come with 12-month manufacturer assurance and supportive customer service. Welcome to come to us for troubleshooting or replacement of discontinuous/defective parts.

INTERNATIONAL SHIPPING: All international orders (outside of the U.S.) will be shipped from our factory or partnership warehouses, and they

 

would not include batteries

 

with the system due to air control or dangerous good policy. Thus, batteries would be missing in the package for those orders.
About PHENYX PRO Wireless Guitar System PTG-11
Phenyx Pro PTG-11 wireless guitar system is designed for a wide range of professional applications with 100 selectable frequency channels, automatic frequency scanning, system lock function, and automatic transmitter pair up, ideal for professional setup in occasions like live shows, small gigs, weddings, DJs, studio recording, etc.
Compared to smaller receiver that has the same size of the transmitter, the traditional metal box receiver has better capacity on handling more complicated circuitry design and providing superior stable performance for professional use. True diversity circuitry ensures no latency or delay, ideal for professional stage performance.
What You Get:
- 1 x Metal wireless guitar receiver
-1 x Rechargeable guitar transmitter
-1 x Audio cable to recharge the transmitter
-1 x Power adapter
-2 x Antenna
-1 x 1/4'' Audio cable
-1 x User manual
-1x Rack mount kit with antenna extension
PTU-5000
One of the most beloved wireless mic system for small to large venues.
Reliable Performance
With the PTU-5000 receiver, you can expect stable and reliable performance for your events. Be it wedding hostings, public speeches, preaching and so on, you can put more focus on your message and let us take care of the rest.
Exceptional Audio Quality
Equipped with cardioid pickup pattern mic capsule, this handheld transmitter is able to render crystal clear audio for your performance.
Compact and Powerful
This compact bodypack transmitter can be your powerful tool. Outstanding sound in a small and neat configuration.
Long Operation Range and Stable Performance
With up to 260ft long operation range, you can go far without worrying about the audio.
Frequently Asked Question