Story of The Month:
Vitruvia, Inspiring Post-Hardcore Band
Vitruvia is an inspiring post-hardcore band endorsed by Phenyx Pro. In this interview, we are going to learn about their music journey and insights that they want to share with those who are entering the world of music.
It has always been Phenyx Pro's mission to bring inspiration and innovation to those who are passionate about sound and music and support their relationship with it. Hence, we are pleased to introduce a special blog column, "Spotlight Story", to share their insights, challenges, and meaningful moments of them. To begin the new chapter, we are honored to have the popular band Vitruvia for our first interview to tell their story with music.
Vitruvia is a dynamic, hard-hitting and inspiring American post-hardcore band based in Berks County, Pennsylvania. From their music fusing punk, metal, alternative and progressive rock, they have delivered messages of perseverance and strength through life's darkest times to inspire a whole new generation. Today, let's dive into what they shared with us in the following.
Q1: What (or who) inspired you to start your music journey? And how did you come together as a post-hardcore band?
This varies from member to member, but all members start with family support or personal passion. Since 5 years old, Dana (Guitar/Vocal) was influenced by his father and uncles, a 4-piece band, leading him to sing and play drums, piano, guitar and bass one by one. Tanner (Bass/Vocal) found his love for guitars and drums through his mother, an amazing singer in a worship team. Jonathan has gained great support by his mother's deep love and inclusive appreciation for music, pushing him to pursue his music career from drums. Aaron was inspired by the song playing on his way to elementary school, Time by Pink Floyd, prompting him to buy his first guitar after a few months.
Coincidentally, each of us has a deep past in some way. And we found the heavier music hit home for us and also a vent to ourselves, even though it may not be everyone's cup of tea. Then, we came together, specifically composing a post-hardcore band, but you can still hear 4-part harmonies in our songs, which is influenced by bands such as Switchfoot and The Beatles. Being a post-hardcore band helps us fit with many different genres and fan bases, pulling from all different directions.
It is a long and challenging journey. Dana is the only original member of the band. Tanner, Jon, and Aaron joined Vitruvia and couldn't be happier with the current members. Our grouping was not smooth at the beginning, but luckily, we found a good way, called the "audition process", to make sure we were aligned before worrying about music. Since then, life has thrown us all many curve balls, but we all have each other's backs. Gradually, we realize that being a band is more than a band; it becomes your family.
Q2: What messages or emotions do you hope your audience or fellow musicians will connect with through your music?
We want to be a positive light in a darkening world. And what we value most is to bring a piece of hope to those who can't see a reason to continue. There are so many people in this world who struggle with depression and mental, sexual, and physical abuse, which some of us have been in situations of. We want to show people they're not alone and there are others going through similar situations. We share our stories in the hope that we can help someone feel alive again.
Q3: This year, you had several wonderful performances. How did you feel about them?
Every show played is a sign we are supposed to be here doing what we do. We tried to enjoy every show as much as possible, no matter if there were 5 people or 5,000. However, it always seems that we, as a band and individuals, have a lot of things we are battling on and off the stage. These tricky tasks won't let us down. We did our best to overcome things like backing tracks not working, forgetting gear at home, and balancing work and family in person. It is worth mentioning that we enjoyed our best-than-ever sound quality on some shows, delivered infectious messages, and inspired our audiences to stay strong. No matter what happens, each show is unique and fun. The hard part is having the right mindset.
Q4: How did you overcome difficulties during your creative process or performances?
It was challenging to combine multiple leaders into one, as each person was used to leading the ship in the previous bands. We may not see eye to eye at first, but we find ways to get on the same page because we all emphasize efficient communication to get things done. There are so many influences and life experiences that we can put together to make the writing express ourselves and infect others. We definitely have had our creative differences, but we find great communicating ways each time to make a common ground or to understand each other to ensure we stay afloat and start sailing. This can make our creative process smoother.
Q5: There are so many aspiring music enthusiasts pursuing their musical journey. As experienced musicians, what would you like to tell them?
Take the time to do things right instead of rushing to get things done. It may feel like time is against you, and if your product reflects, it could be a bad outcome. However, looking back, things definitely could be done differently. It is hard sometimes, but as long as you stay focused on the bigger picture, it will pay off. Another key is relationships. It is important to get on well with tour bandmates, fellow bands, promoters, and those on the list going on. Simply be a nice person, support others, and make friends to build your music family. Really dig deep to find which strategies work for you and run with them.
Q6: How do you choose audio equipment for your performances? What would you like to recommend?
Money is crucial. And the consistency is also important for a band. We still, to this day, building our arsenal of gear. That means we like to test things out. Trying emerging brands more than the typical go-to out there, we have found those new brands that make a name for themselves and provide exciting gear beyond expectations.
To be specific, Phenyx Pro is an amazing brand that offers affordable products to make you feel, hear, and sound your best. It is also an open-minded and open-eared company, willing to do everything to get the products and services better. One of its astonishing products is the PTU-2U true diversity wireless microphone system. Its sound quality is unreal for a wireless mic. We did a single voiceover on one of our songs, "Peace of Mind," and Dana was able to quickly mix what the mic captured as if it was part of the album. We also love its wireless connection and build quality. By the way, we have a friend in another state take our word to get a PTU-1U (single version of the same series), and he also loves it.
Some Closing Thoughts
Vitruvia also disclosed that they are working on a massive project about new music we can expect in 2024. Let's look forward to their future journey in the music industry. If you would like to learn more about them, feel free to check out their work and connect with them at:
If you would like to check out the gears that they mentioned above, please check out the True Diversity Series on our website. We have officially completed the series by releasing the PWB-12 bodypack transmitter and the PTU-2U-1H1B configuration. Feel free to learn more and pick what you like.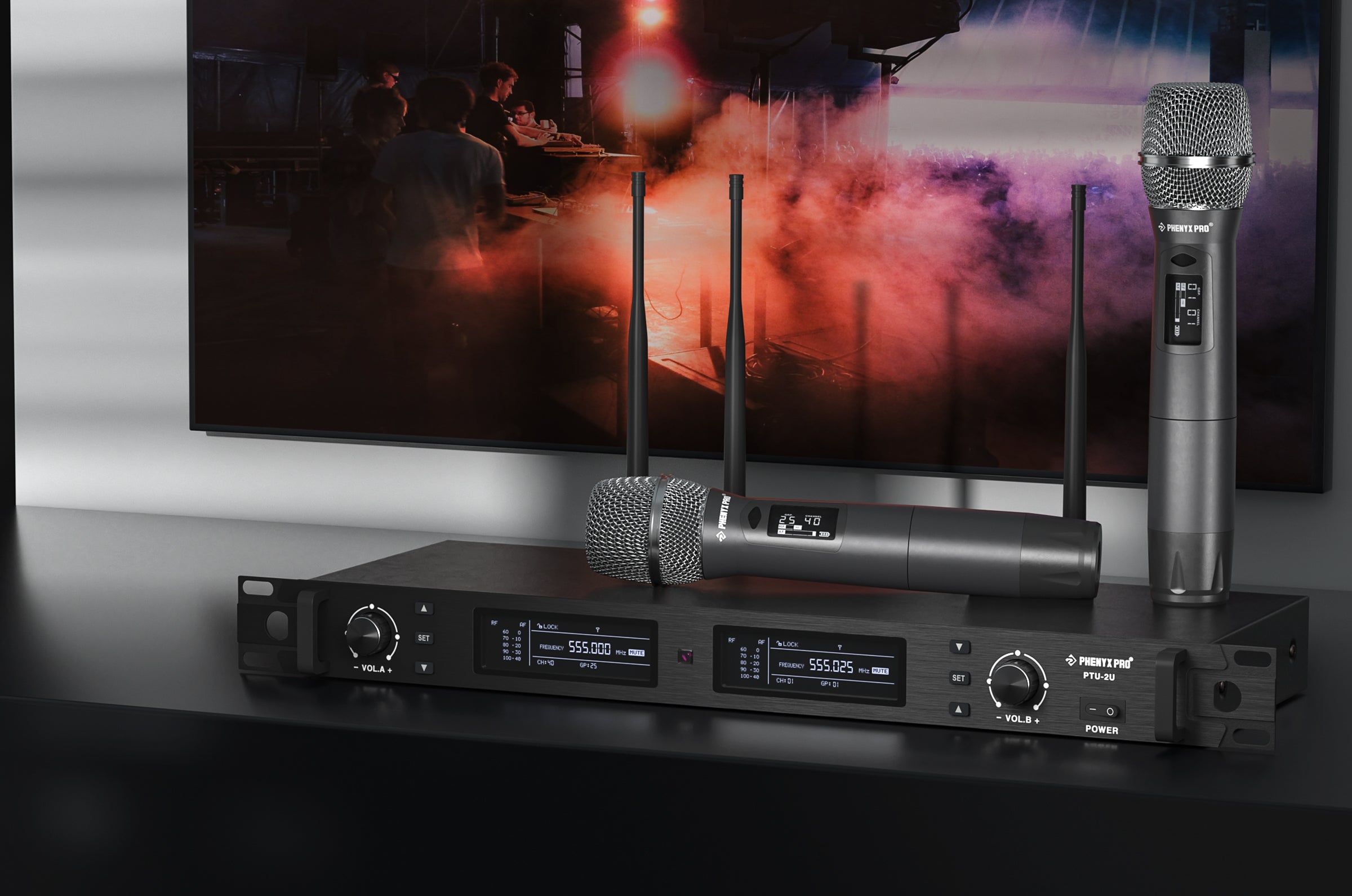 Introducing the PTU-2U
Phenyx Pro announced the launch of the PTU-2U, a stunning wireless dual microphone system that inherits the studio-level sound quality and true diversity design for rock-firm stability. 
Learn More
Aug 19, 2022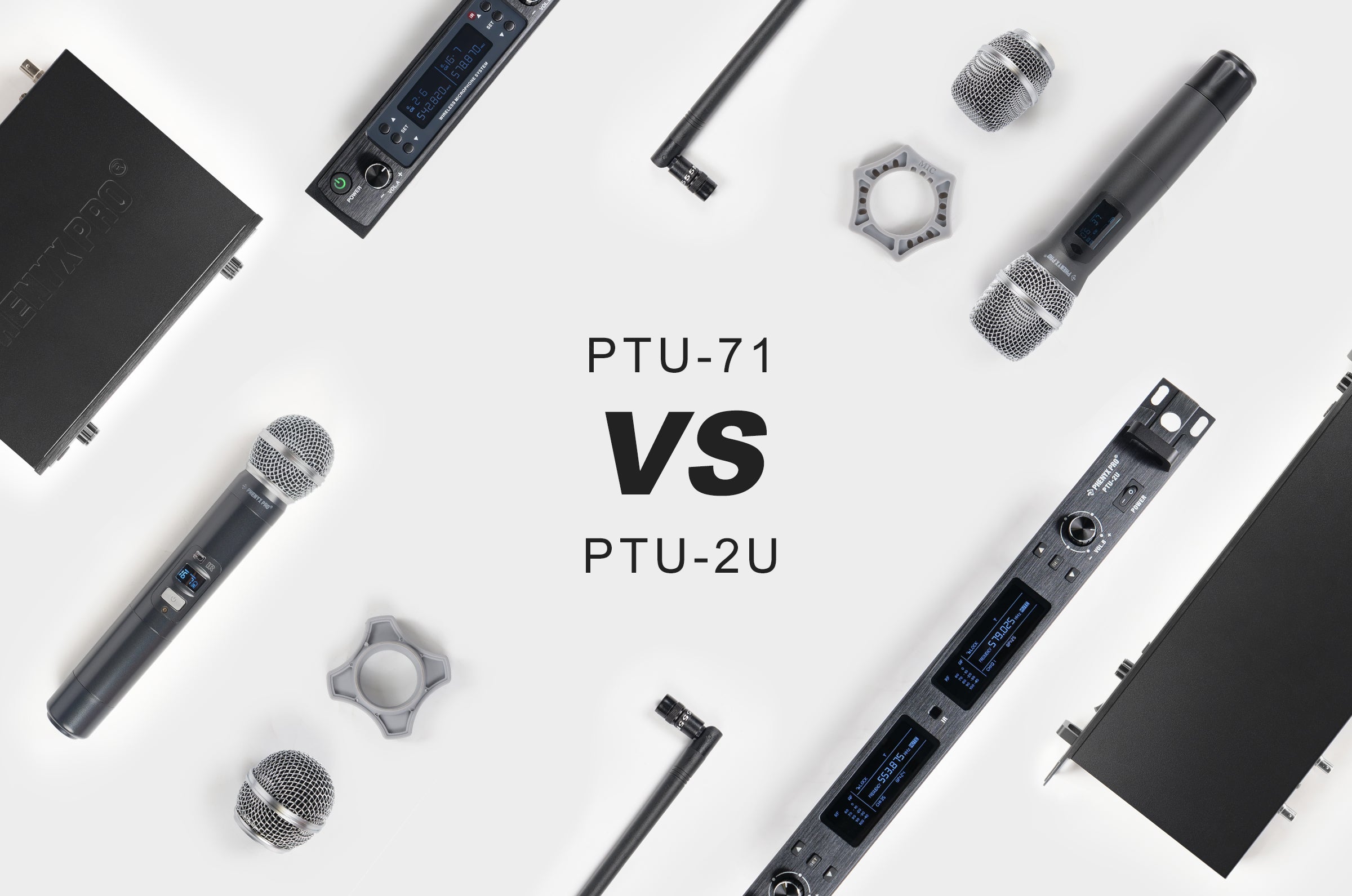 All-around Comparison: PTU-71 Vs. PTU-2U
Which one is better, and what should be considered when choosing between the PTU-71 and PTU-2U? This blog renders helpful suggestions by thoroughly exploring their various distinctions.
Learn More
Sep 09, 2022