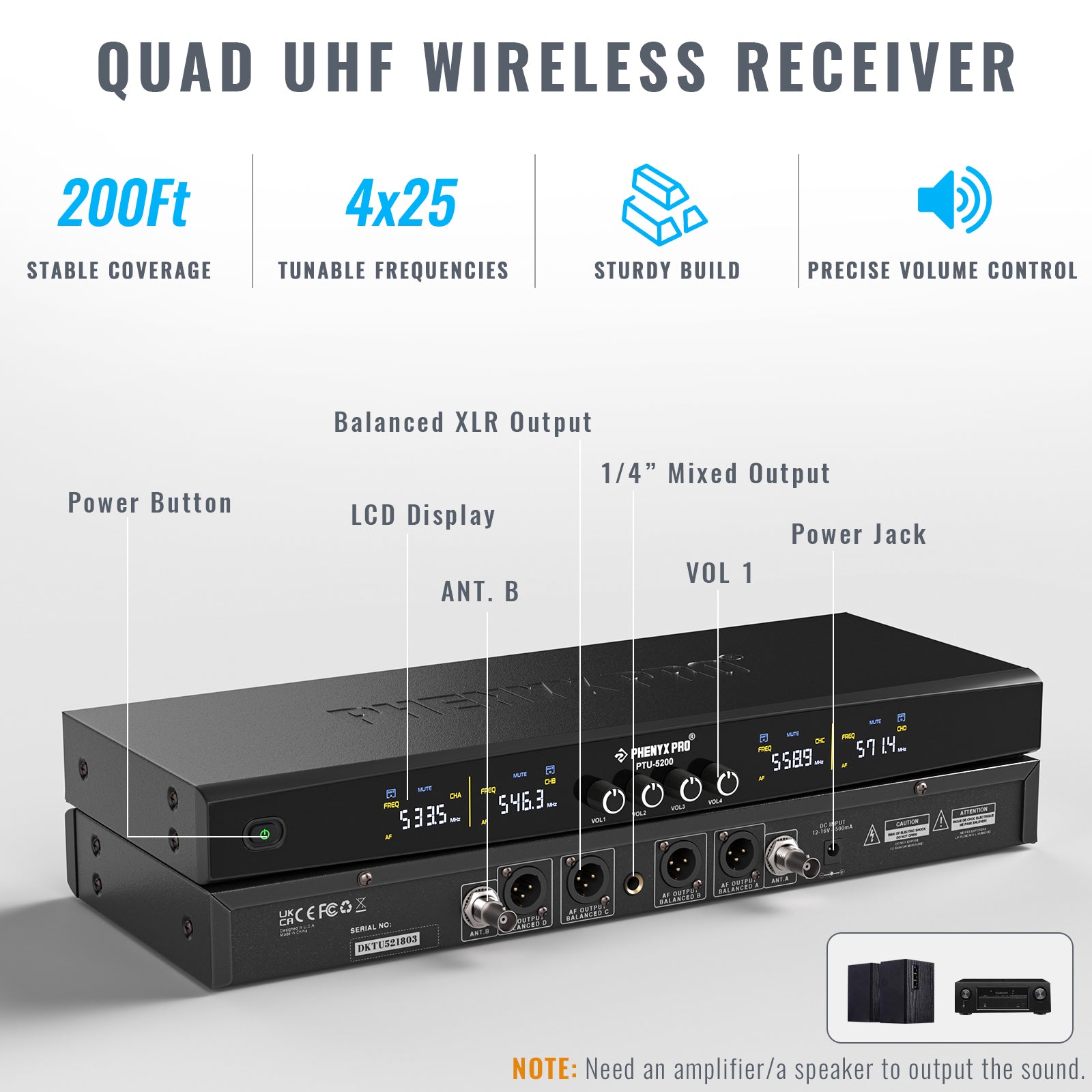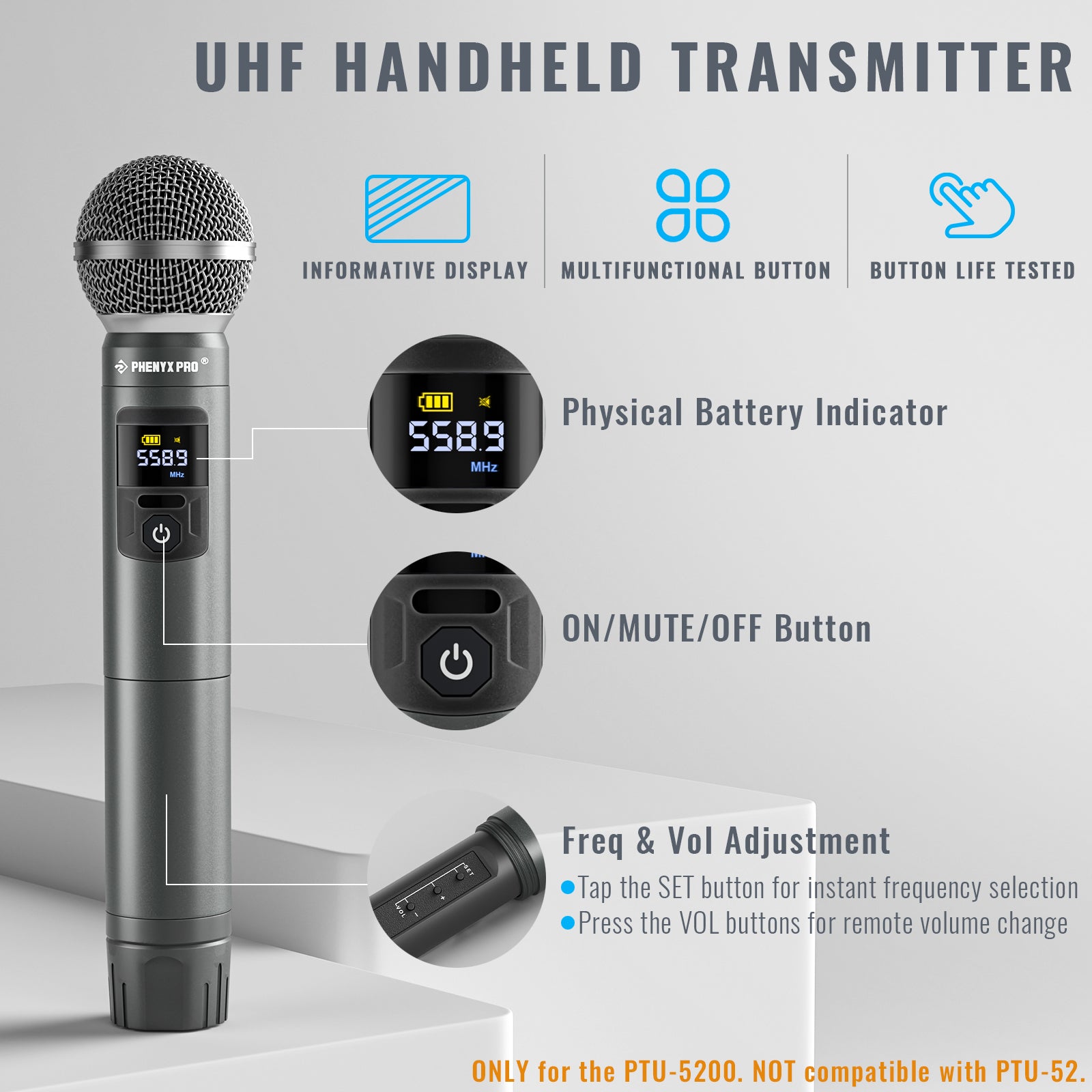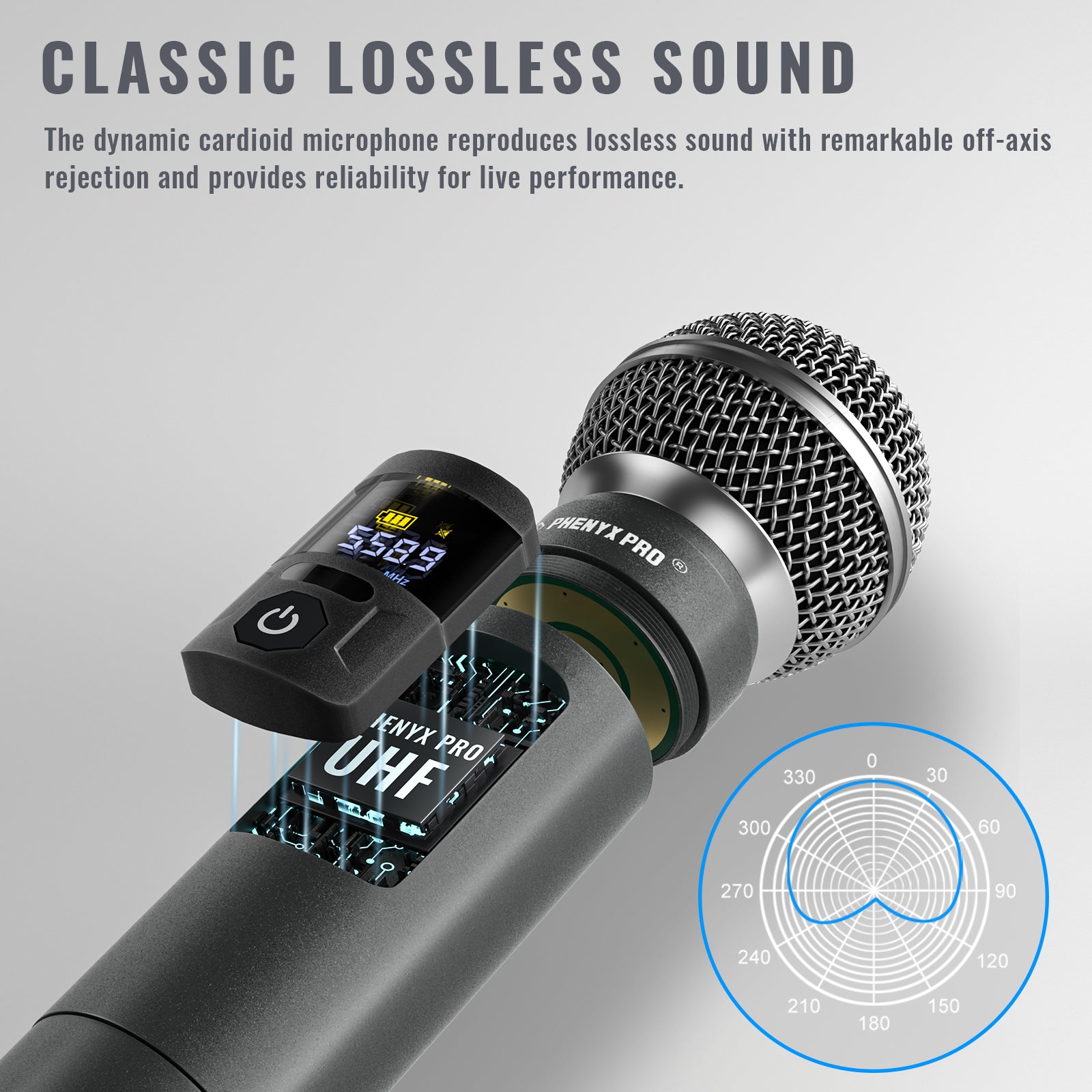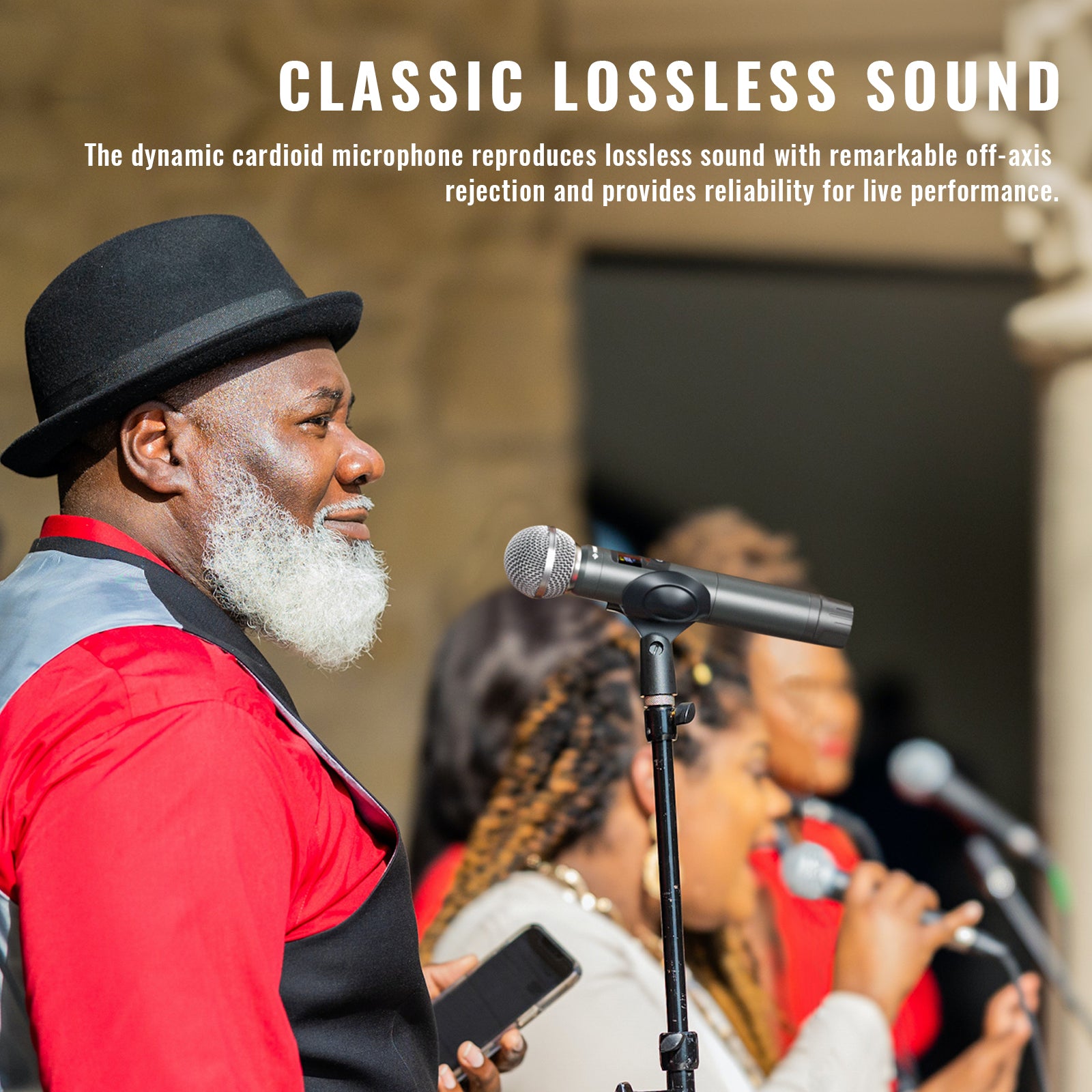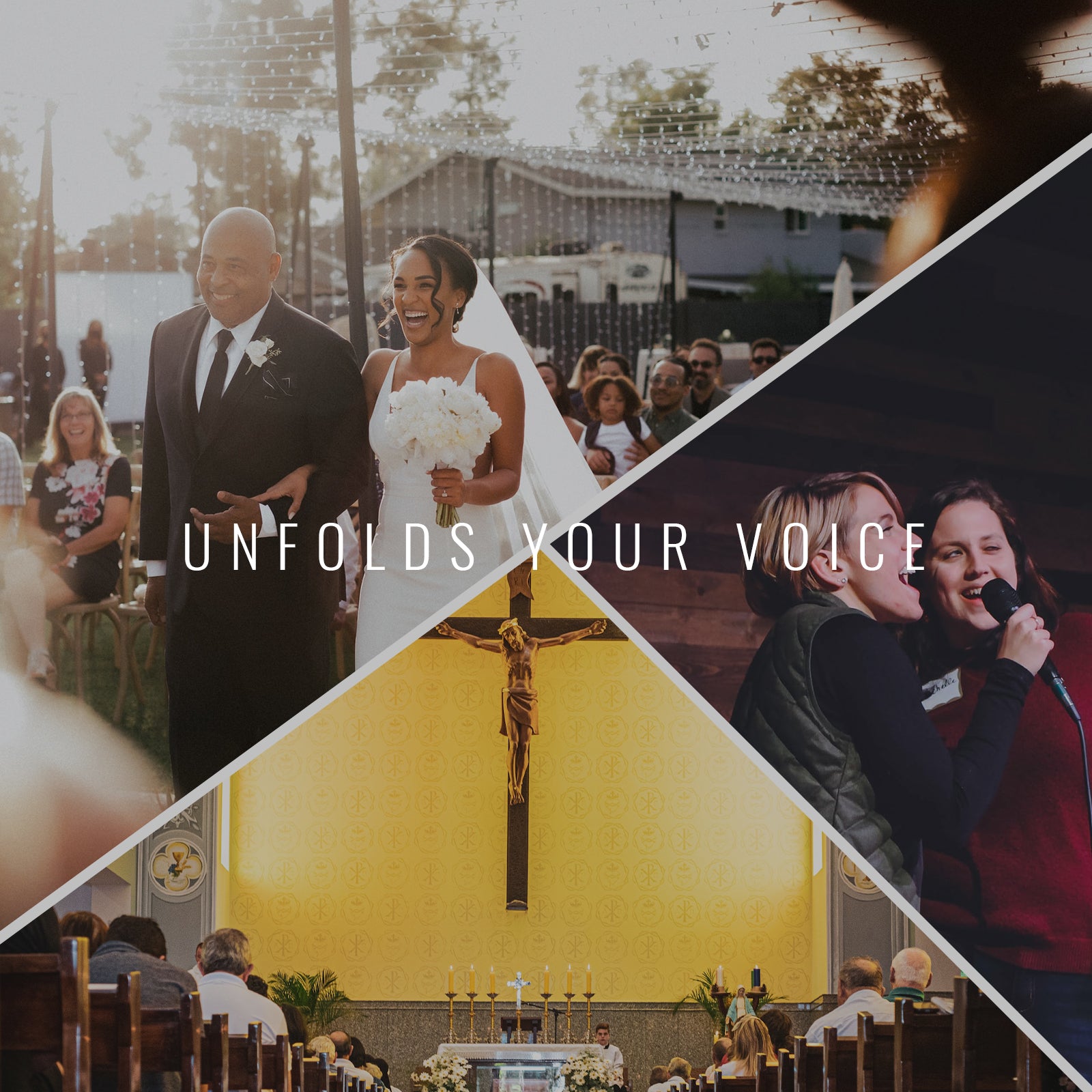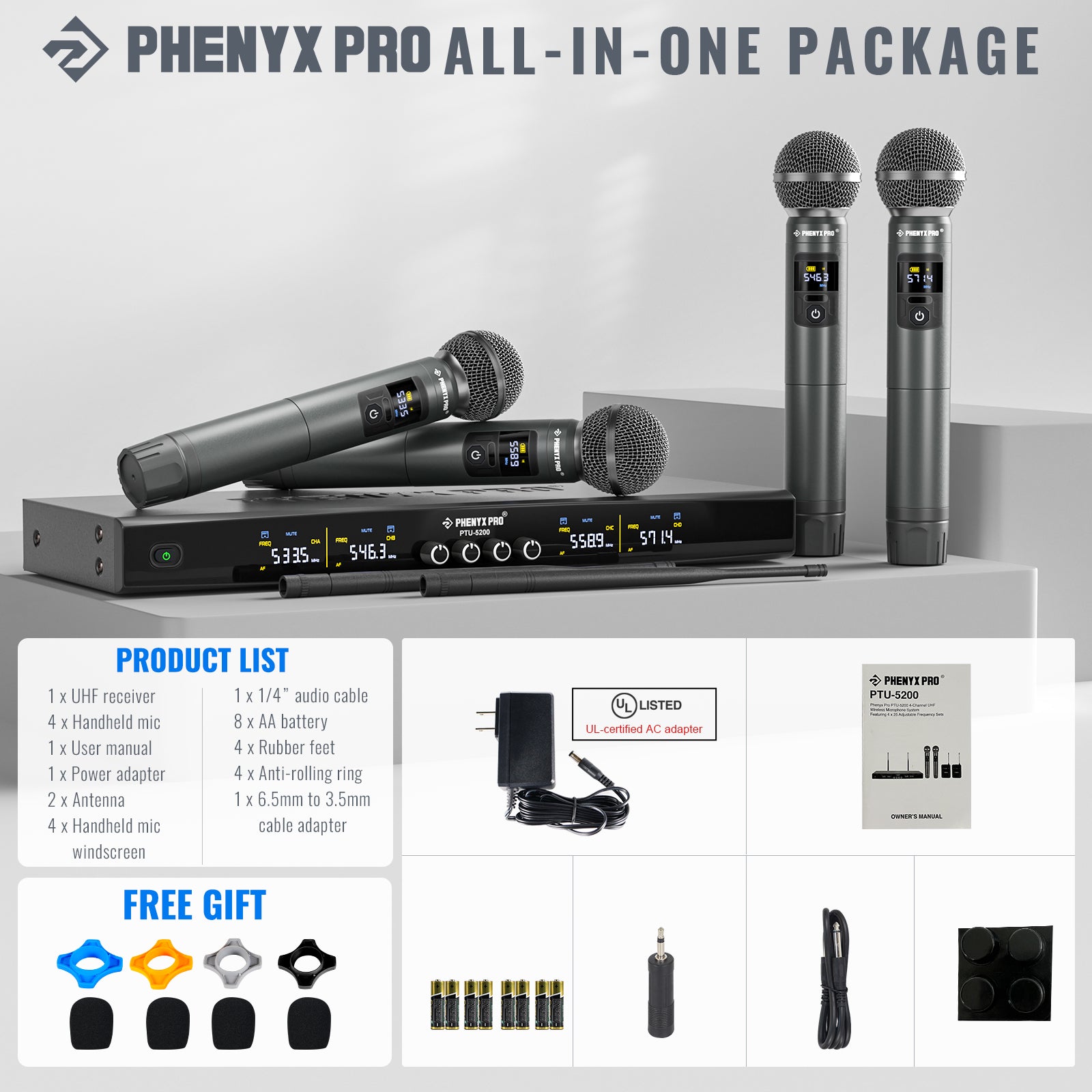 PTU-5200 | Quad Wireless Microphone System w/ Frequency Hopping (4H/2H2B)
Configuration:
PTU-5200-4H
In stock
Features
STURDY BUILD WITH DETAILS:Metal UHF cordless microphone receiver and handheld microphones are designed to last, suitable for heavy use. Bodypack is built with high-quality components and comes with lapel microphone and headset microphone. Both dynamic handheld microphone and bodypack are equipped with a MUTE function for your convenience. This wireless headset lapel microphone system also comes with AA batteries.
25 SELECTABLE FREQUENCY GROUP: State-of-the-art circuitry design with 25 tunable frequency groups for this microfono inalambrico set in 500MHz band from 530MHz - 580MHz, allowing multiple wireless microphones & systems to use at the same time without interference. You can enjoy the freedom of changing frequency if preset frequency failed. Operating distance is up to 200ft in open space line of sight.
STABLE WIRELESS PERFORMANCE: High-quality cardioid capsule and improved circuitry design of microphone wireless system can capture sound and transmit it smoothly without dropouts, hiss, or feedback, delivering robust, clean, and stable sound performance. The wireless DJ microphone system is ideal for applications like church, weddings, public speaking, instruction, conference, and outdoor events.  
About Phenyx Pro Wireless Microphone System PTU-5200
The Phenyx Pro PTU-5200 system is another step toward achieving the convenience and excellent sound quality that every performer dreams about. It combines quality sound, a simple setup, and an intuitive interface for excellent audio performance right out of the box. The microphone capsule's cardioid polar pattern effectively captures and transmits sound without feedback and unwanted ambient noise. The system is equipped with 25 selectable frequency sets that allow up to 25 systems to be used simultaneously (to achieve the best result, please do not use more than 10 units simultaneously). The PTU-5200 is ideal for public speaking, conference meeting, singing, churches and outdoor events.
ATTENTION
1. You will need to connect this system to extra audio equipment like amplifier/speaker to output the sound. It DOES NOT come with speaker.
2. Please keep the receiver away from Bluetooth or other digital devices (such as cellphones, jukebox, DVD, etc.) to avoid potential sources of interference.
3. Please do not face the microphone to the receiver too closely, in order to avoid feedback and statics.
PTU-71
One of the most beloved wireless mic system for small to large venues.
Reliable Performance
With the PTU-71 receiver, you can expect stable and reliable performance for your events. Be it wedding hostings, public speeches, preaching and so on, you can put more focus on your message and let us take care of the rest.
Exceptional Audio Quality
Equipped with cardioid pickup pattern mic capsule, this handheld transmitter is able to render crystal clear audio for your performance.
Excellent Durability
Feel the microphone in your hand. Its toughness and ruggedness are never a secrect.
Intuitive Synchronization and Setup Process
With the IR Sync technology, it is a breeze to connect the microphone to the receiver. Pair it and start rolling!
Frequently Asked Question