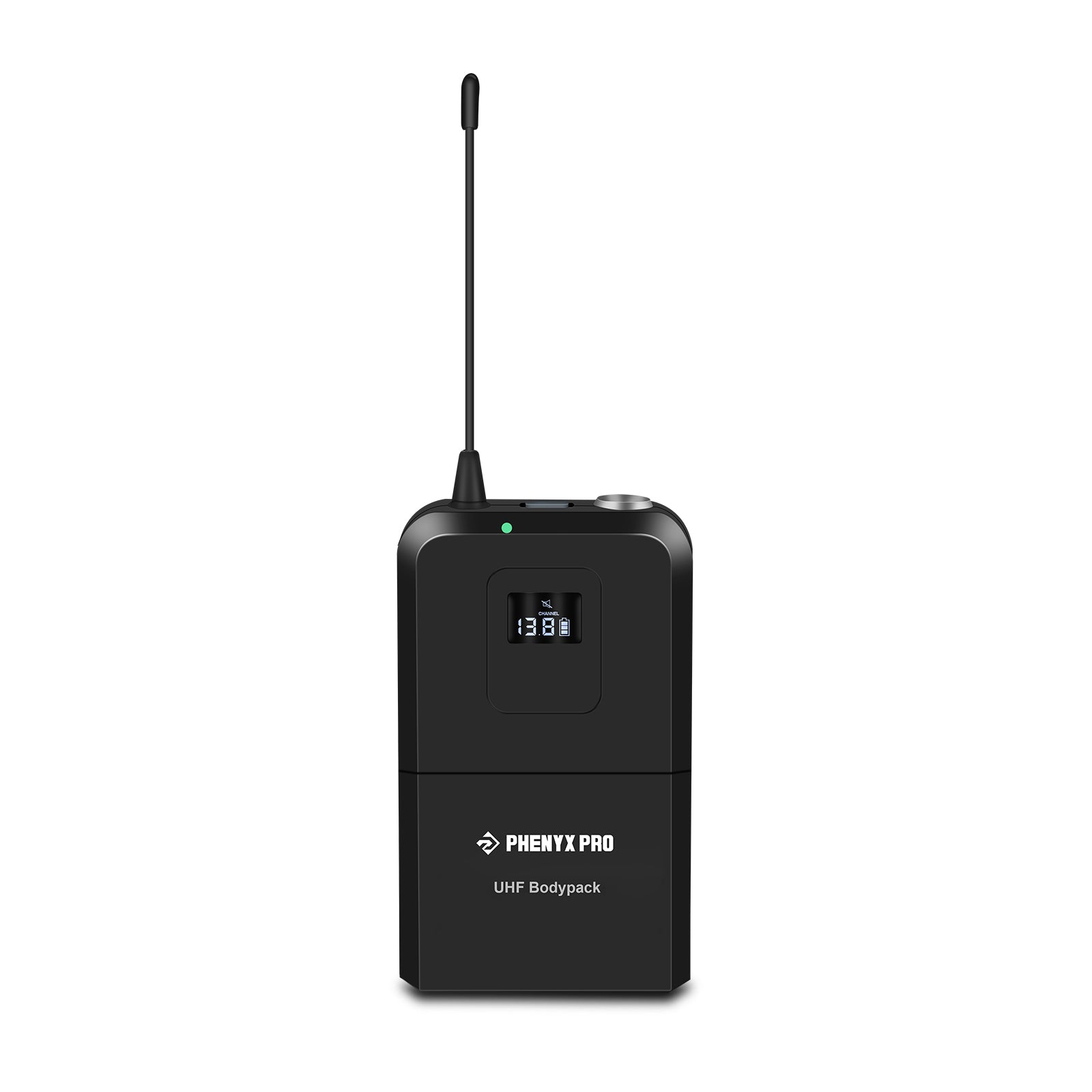 PTU-71 | Dual UHF Wireless Microphone System w/ Auto-Scan (2H/1H1B)
One of the Renowned Mic Systems from Phenyx Pro
The PTU-71 wireless microphone system can offer you extraordinary crispy audio and reliable performance - for an unmatchable price. With the scan function, it's able to find the available frequencies so you don't need to worry about dropouts. It has never been easier to get on stage with the confidence you should have. 
Features
Auto-scan function to locate the best frequency nearby.
Crystal clear audio quality with cardioid pickup pattern to minimize noise.
Sturdy all-metal construction for both receivers and handheld mics.
Rack-mountable. Easy to integrate it into your setup.
Two XLR outputs for each channel and one 1/4" TS unbalanced mixed output for combined audio.
Up to 328ft long operation range.
> 8 hours battery life for each transmitter.
2-channel design with selectable frequencies in 500MHz frequency band. Channel 1: 538.3 - 566.5MHz (100 channels). Channel 2: 571.3 - 599.5MHz (100 channels)
/ Explore the Auto-Scan UHF Series
PTU-71/7000/6000 Wireless Microphone System
Phenyx Pro introduced the auto-scan UHF series in 2019, which features adjustable frequencies, automatic frequency search, and frequency locking functions.
/ Overview
FUEL YOUR VOICE
WITH WIRELESS POTENTIAL
The PTU-71/7000/6000 series provides a flawless audio solution and unlocks more wireless potential to your sound performance everywhere, thanks to its tunable frequency design and automatic frequency management. There are three versions available: the dual PTU-71 system, the quad-channel PTU-7000 system, and the eight-channel PTU-6000 system. With its thumbs-up stability and robust bright sound quality, such an affordable and expandable series proved to be an ideal option for small-to-medium indoor or outdoor venues. It fuels your distinctive voice to light up the stage wherever there is a DJ party or band gig.
/ Tap wireless potential at the very start
Flexible. Expandable.
The 71/7000/6000 wireless microphone system series adopt the tunable UHF circuitry to fend against harsh spectrum conditions and shield from mutual interference. Adjustable frequency groups (2x100 frequencies for PTU-71, 4x40 for PTU-7000, 8x40 for PTU-6000) within a tunable bandwidth of 40 to 80 MHz (vary from receiver channel version) aims for tuning flexibility and interference-free operation. Simultaneously link up multiple systems and build your integrated rack!
/ Access to wireless stability effortlessly
One touch. All ready.
State-of-the-art Auto Scan circuitry scans the entire RF environment more precisely, so the receiver can quickly locate a clean frequency and deliver promising wireless performance. It guarantees fewer cutoffs and dropouts for your important moments. One-touch automatic frequency management prepares everything for you.
/ Extend wireless coverage stably
Long range. Reliable choice.
Professional circuitry plus four independent antennas improve reception. Reliable coverage expands up to 100m/328ft without interference, cutoffs or dropouts.
/ Deliver immersive sound performance
Your voice. Your vibe.
Dynamic microphone with cardioid polar pattern is designed for true sound reproduction. The system renders lush and natural audio for all types of transmitters, including the handheld, headset, and lapel microphone. Grab your mic and voice yourself to captivate and touch everyone by creating your own vibe.
Engineered for Details
IR Sync
Freely select desired channels for hassle-free linkup via one-tap IR sync.
Lock Function
Long press the UP button to secure your setting with ease. Lock the passion during your showtime.
Memory Switch
Remains the last stage operation status for direct hookup next time.
Designed for Convenience
Snap-on BNC antennas for easy system installment.

Anti-rolling rings color-code and protect your mics.

Built-in rack handles (only for PTU-7000/6000) for easily pulling out the gear from the rack case.
Phenyx Pro Serves You Everywhere.