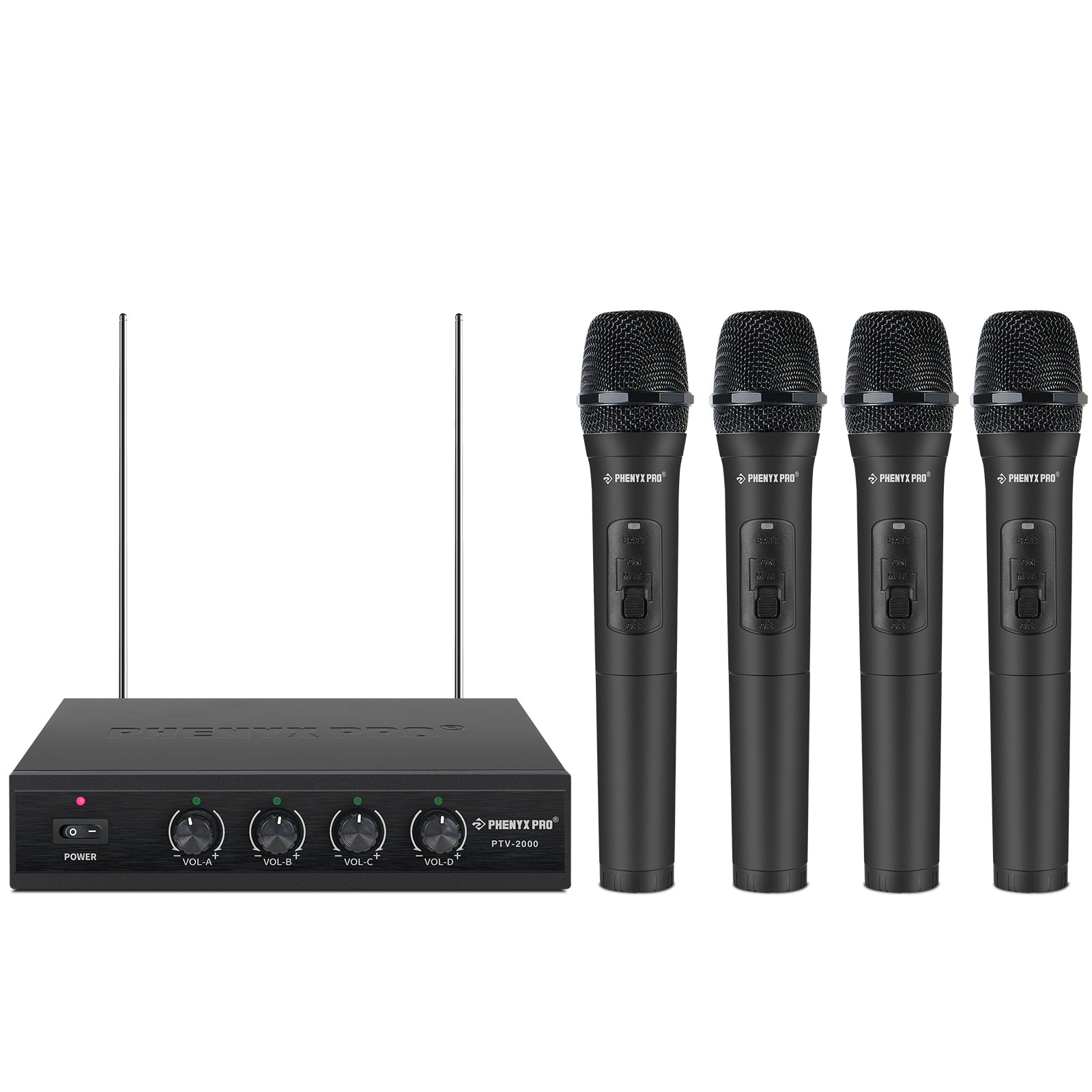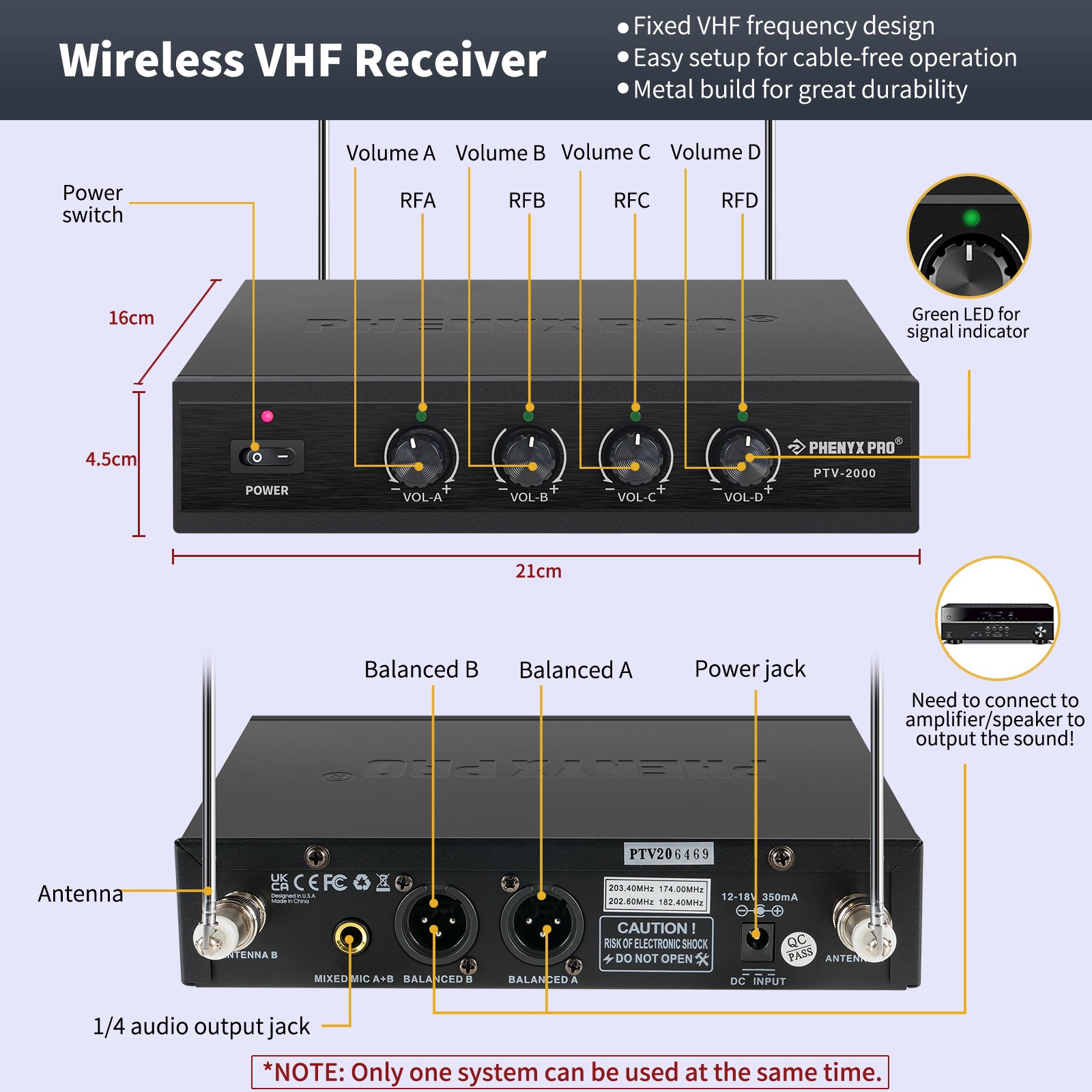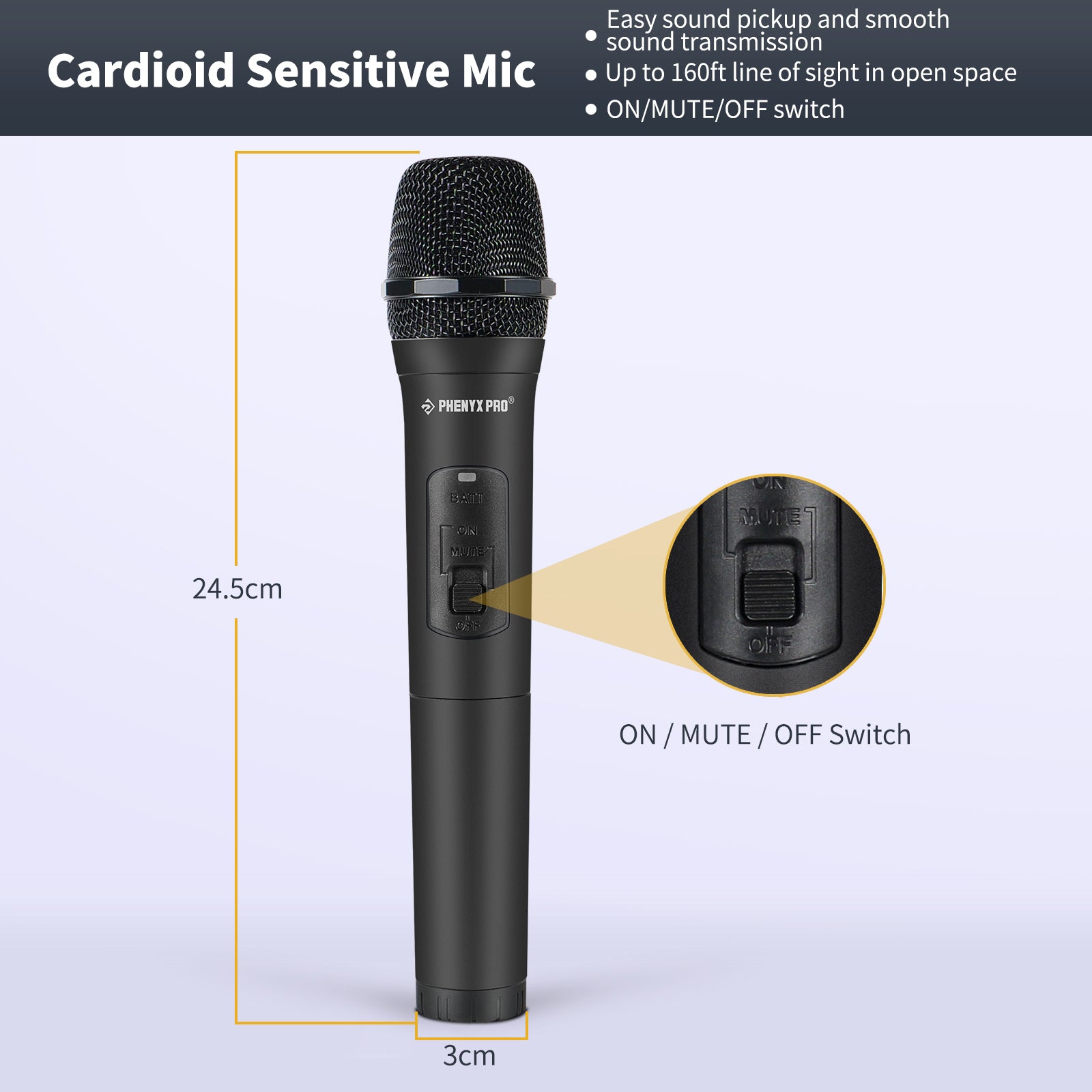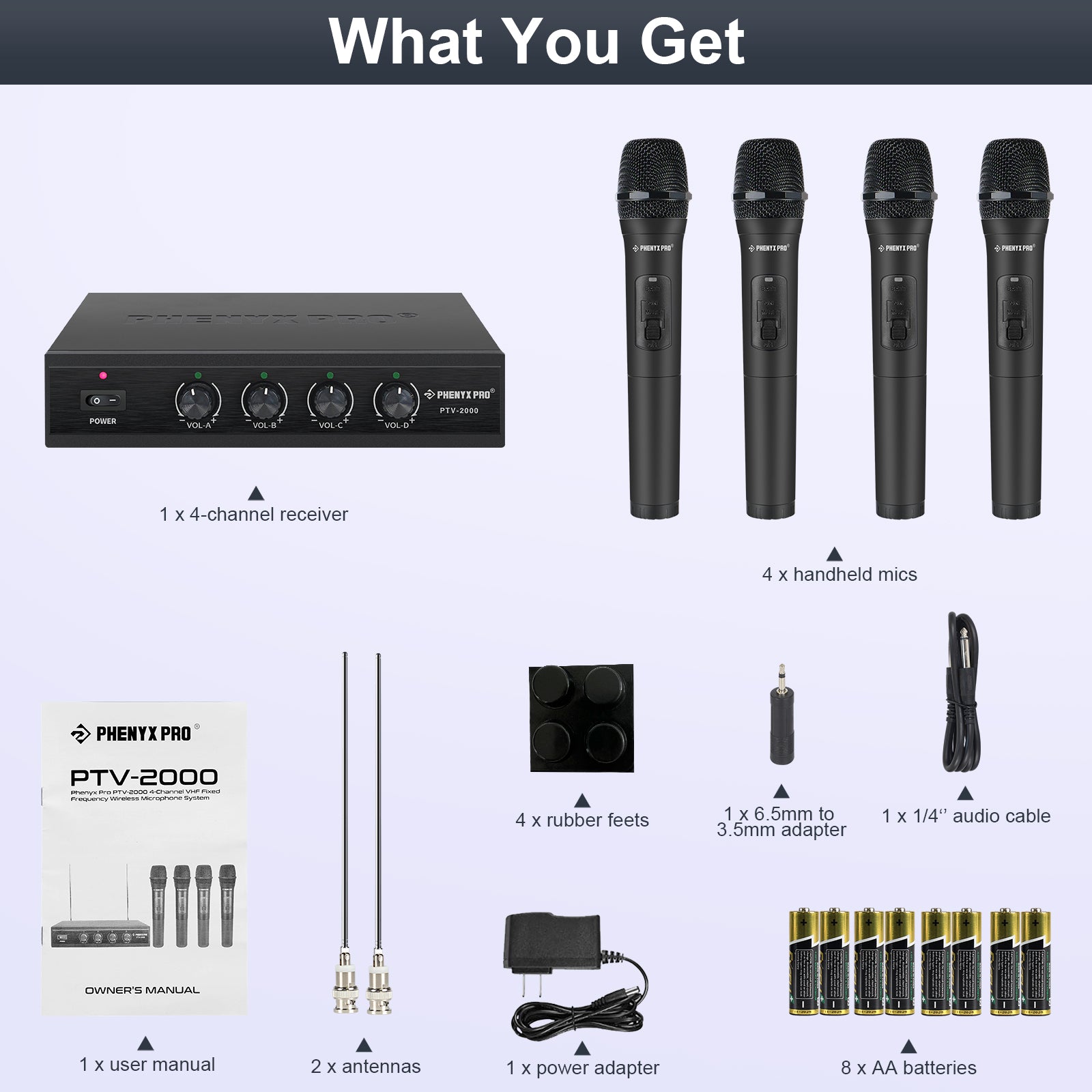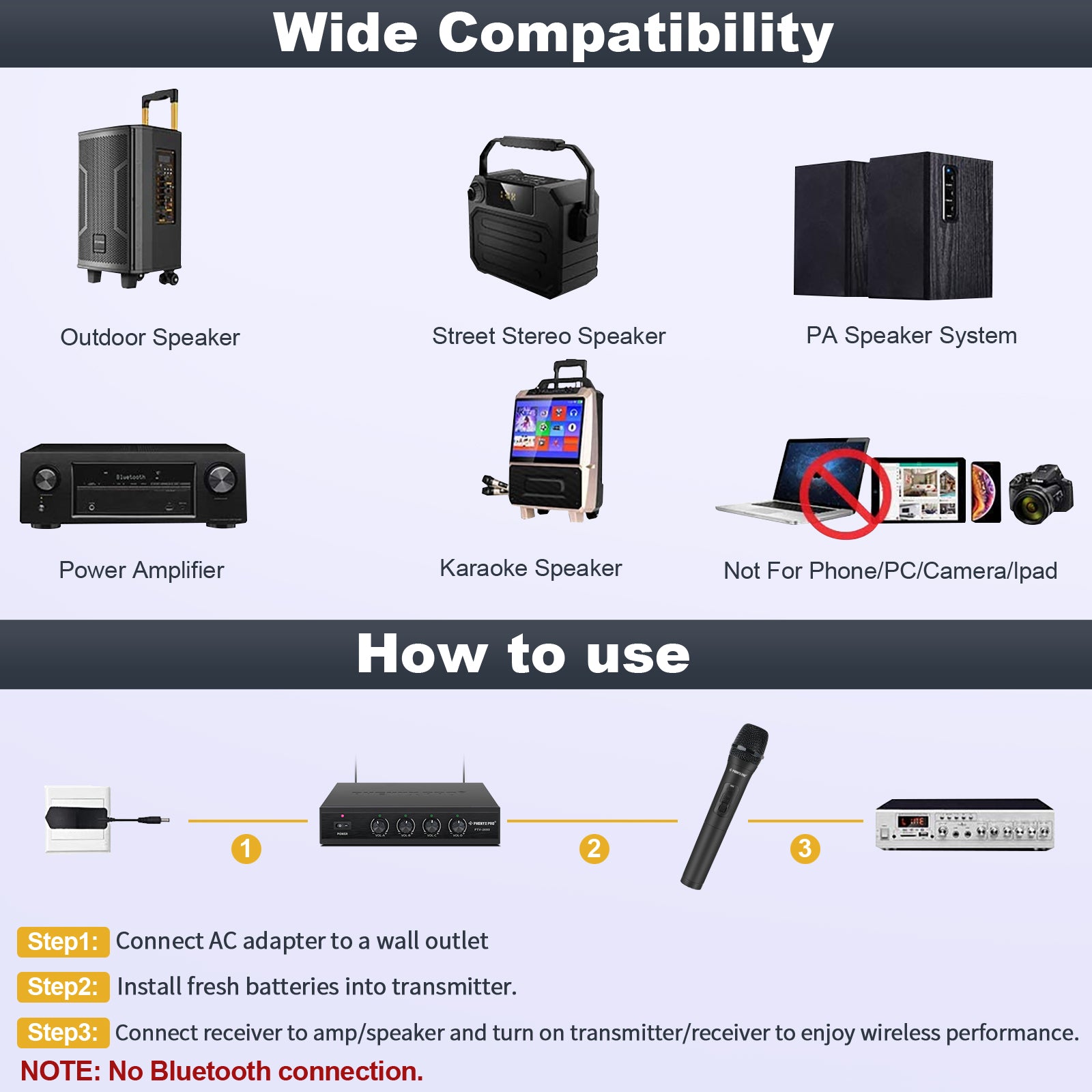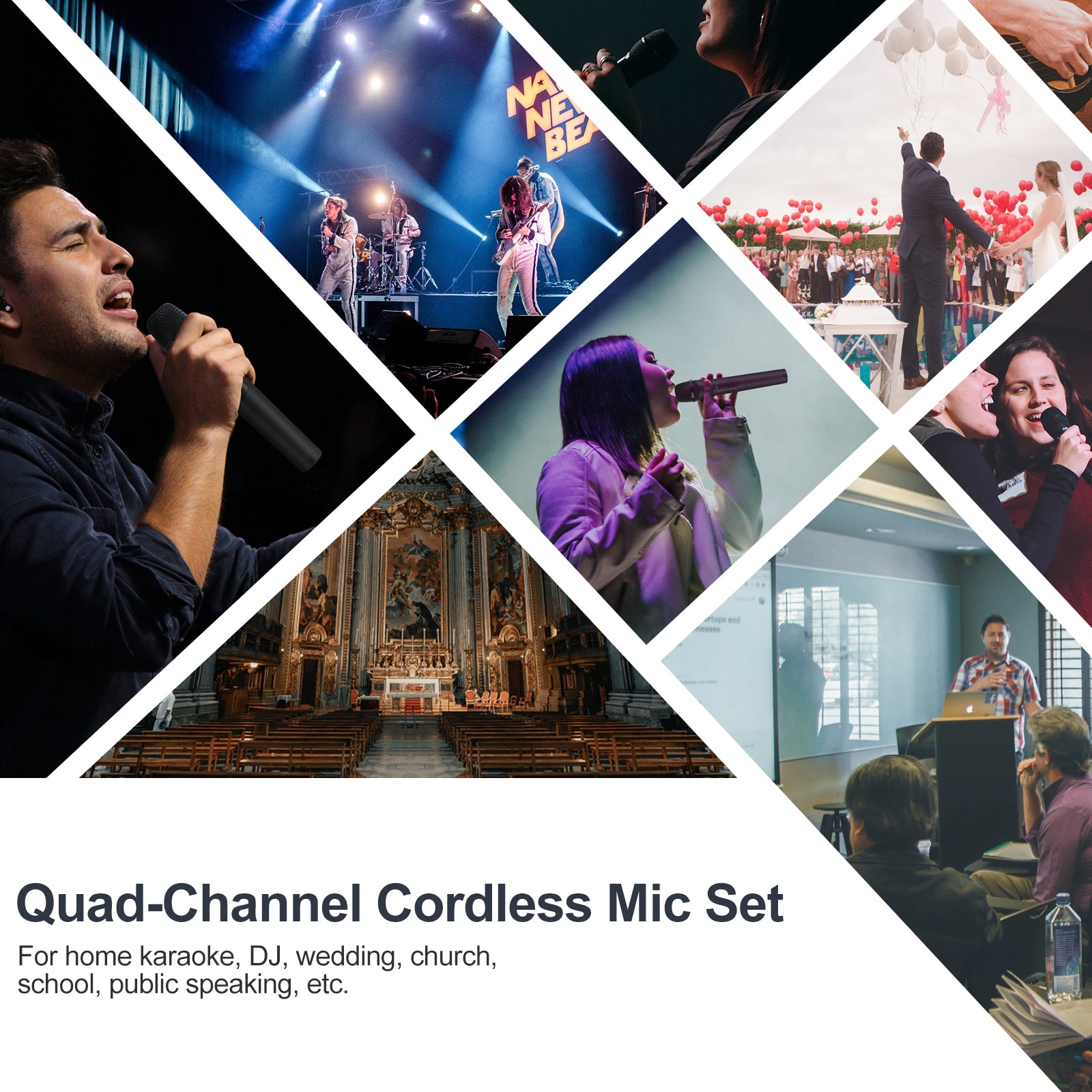 PTV-2000 | VHF Fixed Frequency Quad Wireless Microphone System (4H/2H2B)
Configuration:
PTV-2000-4H
In stock
Features
WIRELESS OPERATION: Quad-channel wireless headset/lapel/handheld microphone system operates in the VHF frequency band to enjoy cable-free operation. Metal build receiver for durability and high-quality plastics build handheld and bodypack for the light-weight feature. Green LED lights above each individual volume control knob to enable users visualize the pair up between receiver and transmitters.
RELIABLE PERFORMANCE: Cardioid sensitive mic capsule enables easy sound pickup and smooth sound transmission, delivering state-of-the-art clear true sound performance. Stable fixed VHF signal ensures unsurpassed interference-free distortion-free operation, operating distance is up to 160ft line of sight in open space. Perfect for public speaking, interview, group karaoke, broadcasting, church, and outdoor events.
VERSATILE USE: Easy setup wireless microphone system and convenient operation with ON/MUTE/OFF switch on both cordless mic and bodypack. Metal receiver features 2 XLR outputs and one 1/4'' audio output jack to connect to your amplifier, mixer, or other PA system. Equipped with handheld mic, wireless headset mic, and wireless lavalier mic in one package for more flexibility.
INTERNATIONAL SHIPPING: All international orders (outside of the U.S.) will be shipped from our factory or partnership warehouses. They would not include batteries with the system due to air control or dangerous good policy. Thus, batteries would be missing in the package for those orders.  

About PHENYX PRO
In Phenyx Pro, we constantly focus on details, explore better production techniques, and utilize sturdy materials to build our products. We are determined to offer better and easier solutions for sound performance and provide our customers with high-end value without overpaying.
About PHENYX PRO wireless system PTV-2000
The Phenyx Pro PTV-2000 system is the 4-channel VHF fixed frequency wireless microphone system that provides wide-area coverage ranges with easy setup and interfere-free operation. Wireless VHF transmission enables hands-free and crisp dynamic vocal performance for conference rooms, classrooms, dance hall, KTV rooms, church, parties, and bands. Metal build VHF wireless receiver features individually adjustable channel volume controls along with audio signal indicators.
ATTENTION
1. You will need to connect this system to extra audio equipment like amplifier/speaker to output the sound. It DOES NOT come with speaker.
2. This is a fixed frequency system and ONLY ONE unit can be used at the same time. Please reach us for suggestions if you need to add more mics.
3. Please keep the receiver away from Bluetooth or other digital devices (such as cellphones, jukebox, DVDs, etc.) to avoid potential sources of interference.
4. Please do not face the microphone to the receiver too closely, in order to avoid feedback and statics.
TROUBLESHOOTING TIPS:
1. If you have any problem with the handheld mic(cannot turn on, no sound coming out), please replace fresh batteries and try again. If matter still exists, please contact our support or leave message to us for assistance.
2. If you experience drop in and out in your area, please check if the green LED lights up for the signal indicators above the volume control knobs. If the green LED flashes and or turns off, please keep in touch with us for assistance.