Mono vs. Stereo:
The Ultimate Wireless IEM Buying Guide
Discover the monitoring solution that fits you with Phenyx Pro's Mono (PTM-11/22/33) and Stereo (PTM-10) Monitoring Series. Dive into this insightful blog and explore their differences so as to make a suitable buying decision to gear up for your sound monitoring journey.
This May, Phenyx Pro officially launched the PTM-33, a quad-channel model of the Mono Monitoring Series, sparking heated discussions on the PTM-33 and its comparison to the PTM-10. This blog offers an in-depth comparison of these two series, providing practical insights to guide your purchasing decisions.
Understanding the Differences
Phenyx Pro provides two series of wireless in-ear monitoring systems, the Mono Monitoring Series and the Stereo Monitoring Series. Before diving into the comparison, let's briefly figure out why these series were developed, the issues they address, and their target user group.
Mono Monitoring Series, comprising the single-channel PTM-11, dual-channel PTM-22, and quad-channel PTM-33, serves as an entry-level in-ear monitoring solution for live performances. Generally, it provides more connections and flexibility and, most importantly, better sound quality than wedge speakers, making it an excellent choice for those semiprofessionals or amateurs with a tight budget. Additionally, the series also offers a variety of channel versions to choose from, depending on the number of band members or the number of desired monitor mixes, integrating 1, 2, or up to 4 monitor mixes into corresponding monitor hubs. A standout feature of this series is the LOOP OUT design, which facilitates flexible daisy chain connections and enables diversified monitor mixes with fewer auxiliary buses than the PTM-10 requires.
In contrast, Stereo Monitoring Series, represented by the single-channel PTM-10, is an all-in-one monitoring solution with more professional options, which appears to be more advanced than the mono one. Its immersive stereo monitoring mode, 1/4" TRS & XLR inputs, and versatile functions empower more adjustments to boss the monitor mix for both amateur enthusiasts and professional performers. For further information, please refer to the table below to compare the differences between the two series at a glance.
Table header 0

Mono Monitoring Series

Table header 2

Table header 3

Stereo Monitoring Series

PTM-11

PTM-22

PTM-33

PTM-10

Price

$164.99

$254.99

$489.99

$228.99

No. of standalone mix

1

2

4

1

No. of frequency

50

2x50

4x25

89

Frequency response

50Hz — 16kHz

60Hz — 16kHz

Audio inputs

Stereo 1/4" TS

Stereo 1/4" TRS & XLR

Audio outputs

Stereo 1/4" TS

1/4" TRS

Mono/stereo

Mono only

Mono/stereo

Receiver control

Power knob combined with volume control

Separate power button and volume knob

Functions

/

Stereo/mono mode selection
Balance adjustment
Equalizer control Limiter function
Lock function

Rackmount kit

√

√

√

√

Carrying  case

√

×

×

√
Making the Right Choice
While both series offer excellent in-ear monitoring experiences, understanding your specific needs will help you maximize your purchase. Let's consider a scenario where a monitoring engineer needs to assign two vocals with four audio signals (Voc 1, Voc 2, Ins 1, and Ins 2).
In the mono solution, 3 auxiliary buses are required to arrange two diverse monitor mixes. This affordable, space-saving setup with the PTM-22 would cost $254.99. On the contrary, the stereo solution requires 4 auxiliary buses for the same result (but in stereo monitoring mode), costing $457.98 for a professional, luxury setup with two PTM-10s.
From this case, you can take into account the applications, your budget, and whether the stereo is necessary to make an informed purchasing decision. To shop rationally, try to ask yourselves several questions below:
How big venue are you going to perform in?
How many members in your band need in-ear monitoring?
How many auxiliary buses of your mixer could you assign to wireless IEM systems?
Is stereo monitoring mode necessary for the venue?
What is your budget amount?
Conclusion
In a nutshell, Phenyx Pro's Mono (PTM-11/22/33 systems) and Stereo (PTM-10 system) series offer cost-effective wireless in-ear monitoring solutions. The Mono series is perfect for live bands with a limited budget and device constraints, while the Stereo series caters to discerning musicians seeking a stereo monitoring experience. And your performance venue, band size, number of mixer-assigned auxiliary buses, personal preferences, and budget will guide you in choosing the most suitable gear.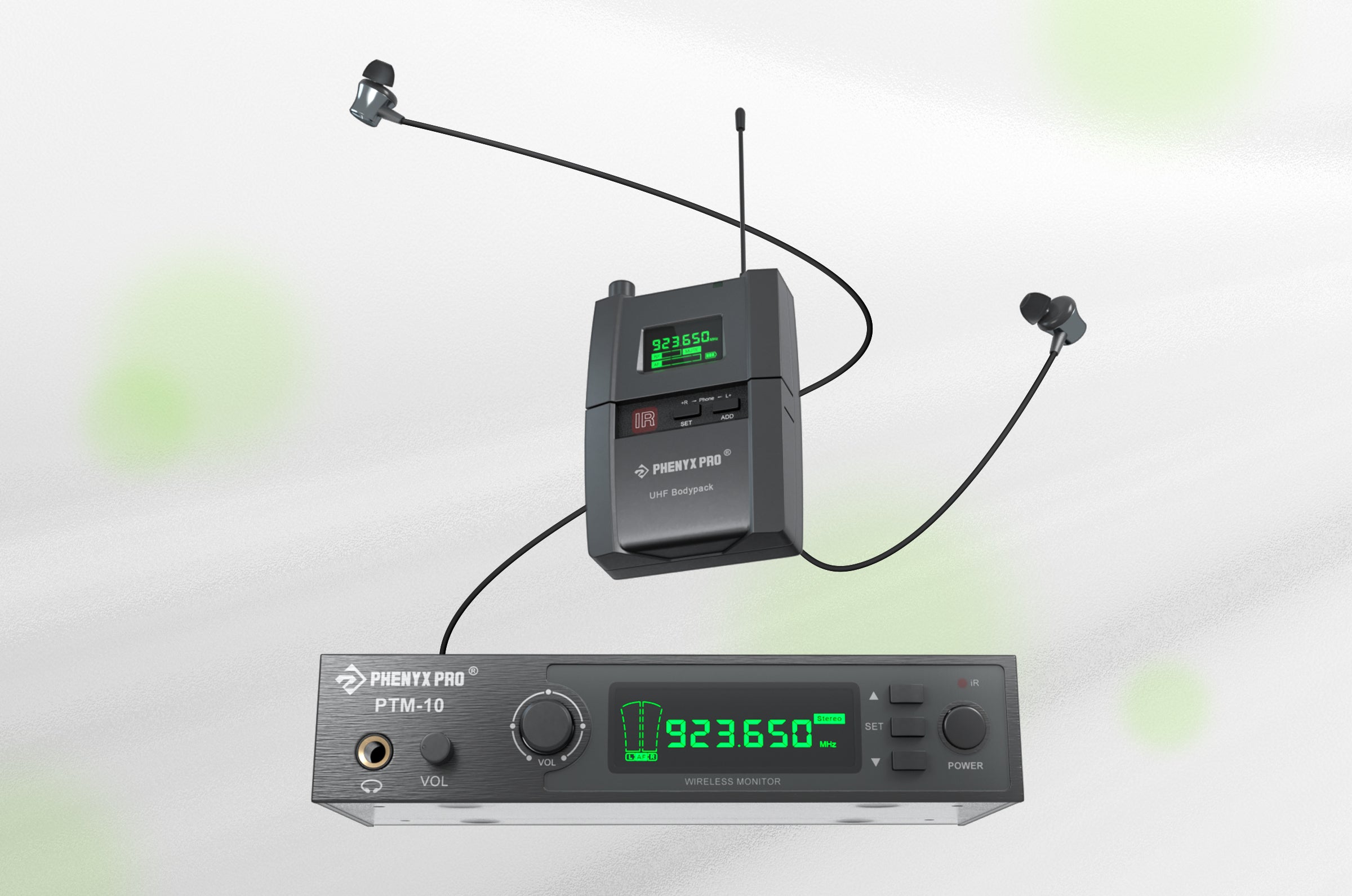 Retracing how the stand-out Phenyx Pro's PTM-10 is acclaimed, this blog provides a comprehensive overview of this must-have wireless in-ear monitor. Now let's explore its immersive monitoring experience and versatility to boss your monitor mix.
Learn More
Jun 30, 2023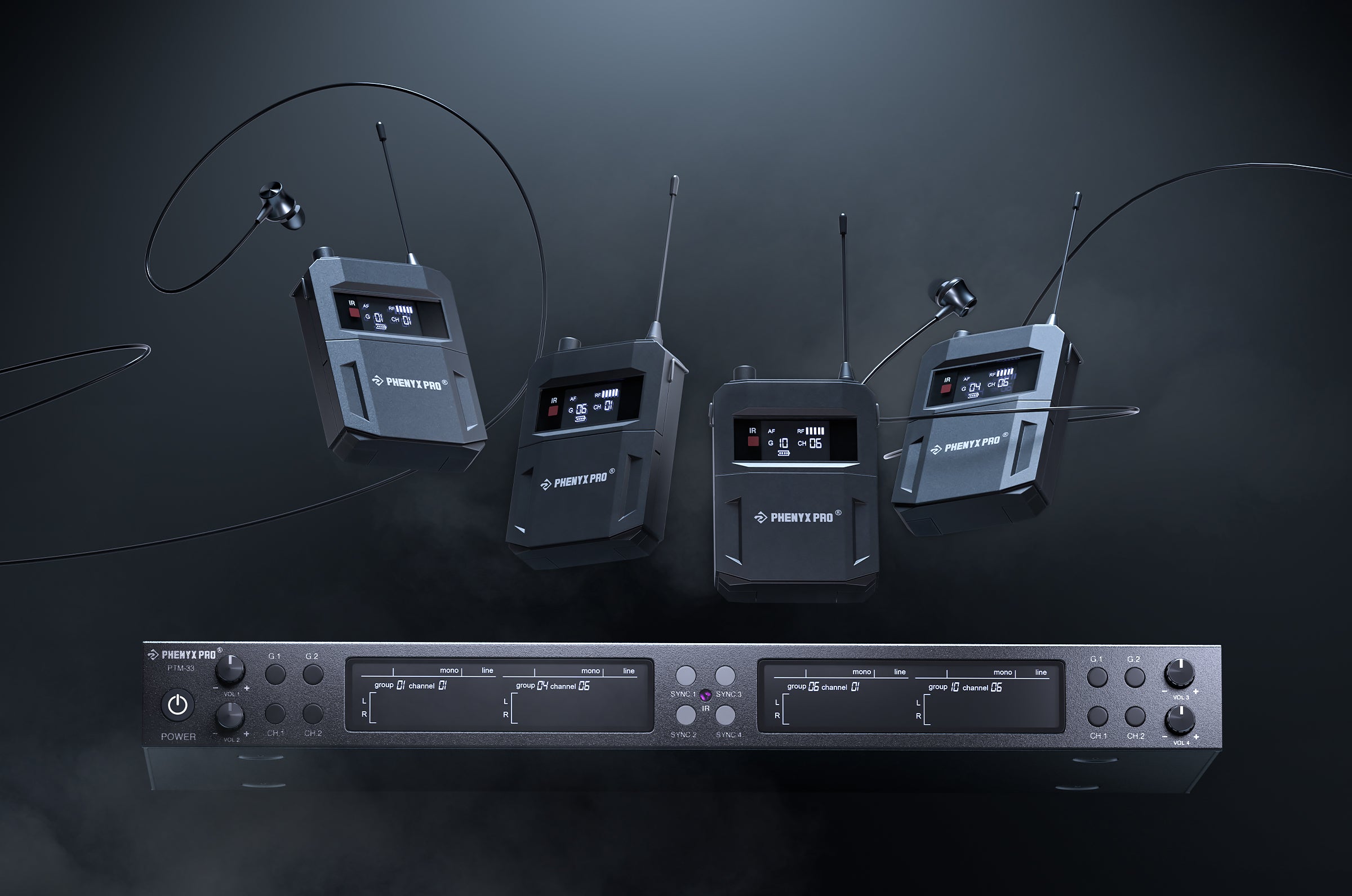 Discover the challenges traditional stage monitors pose to sound monitoring in live performances. In this blog, we introduce Phenyx Pro's entry-level mono monitoring series as a solution and highlight the latest addition, the PTM-33 mono IEM system, which will soon be released in May. Learn how the innovative system can elevate your on-stage experience.
Learn More
May 05, 2023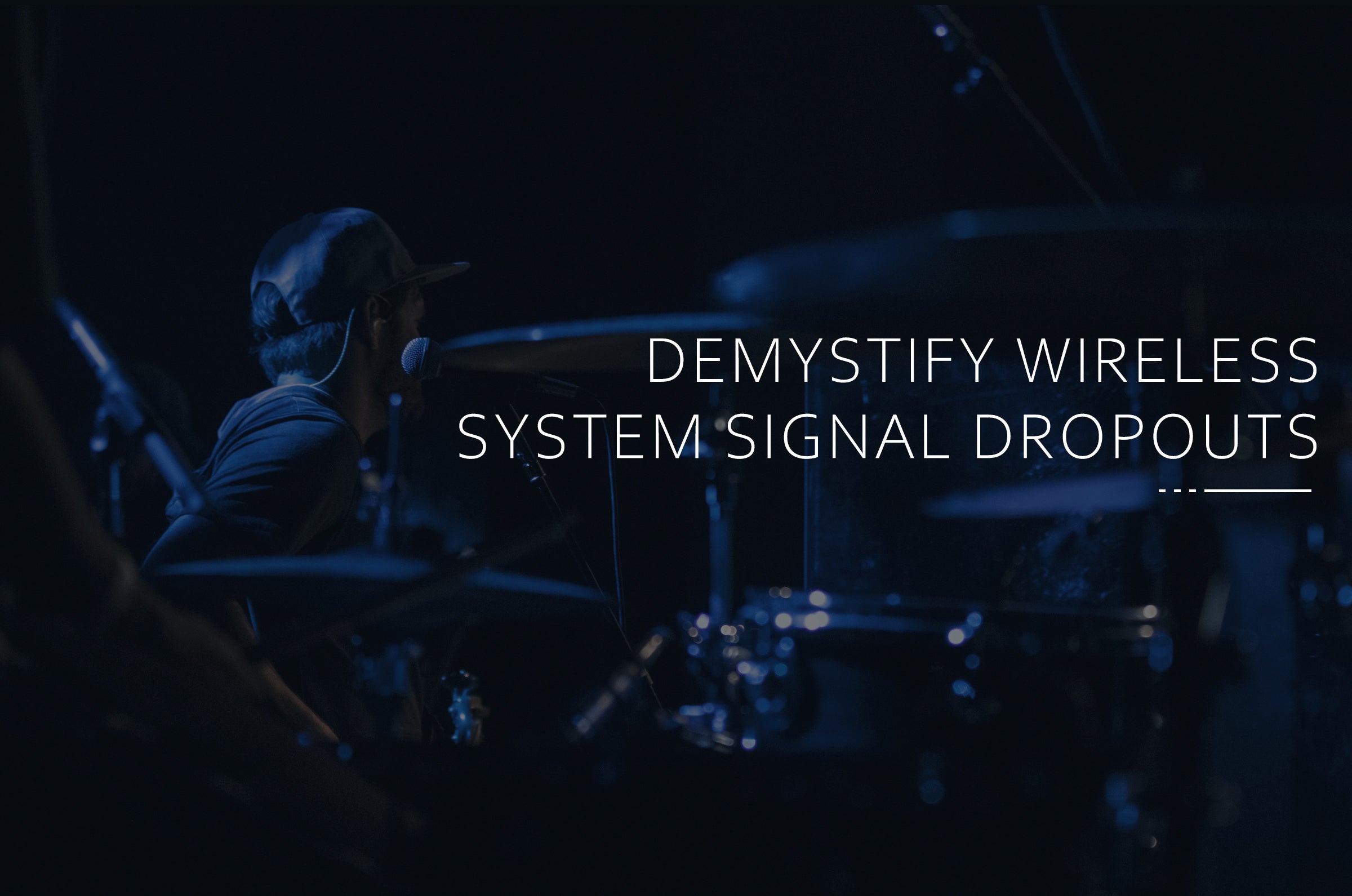 It's many people's worst nightmare to have a wireless system cut out in a show or on stage. Today we will systematically walk through the possible causes for wireless signal dropouts and essential factors to consider when troubleshooting.
Learn More
Dec 23, 2022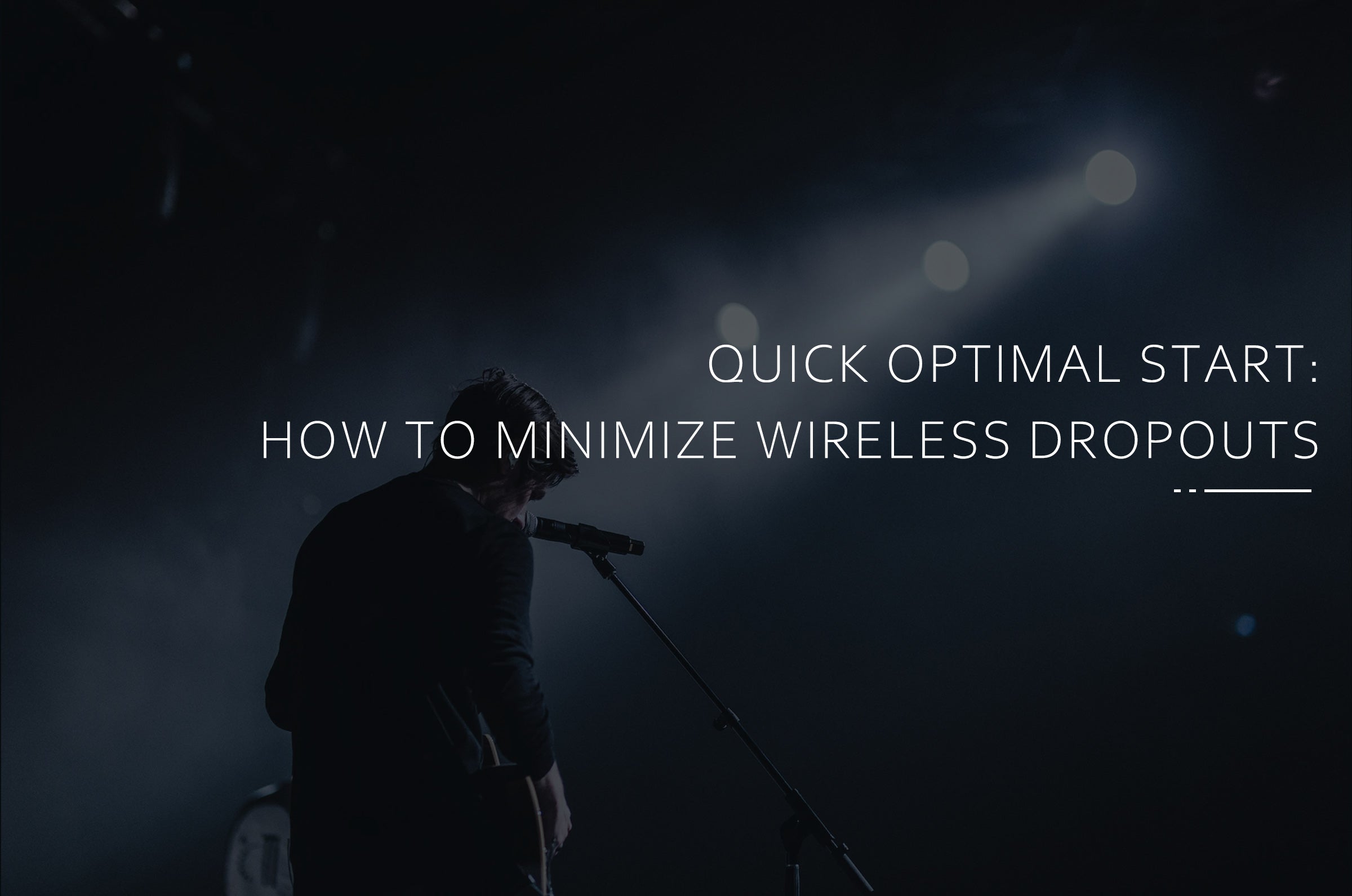 Are you still curious about how to deal with wireless dropouts? Now you do not need to worry anymore because this blog will dive into the selection of suitable gear and a brief guide for setup, which is helpful to minimize wireless dropouts and optimize your rack workflow at the very start.
Learn More
Jan 06, 2023