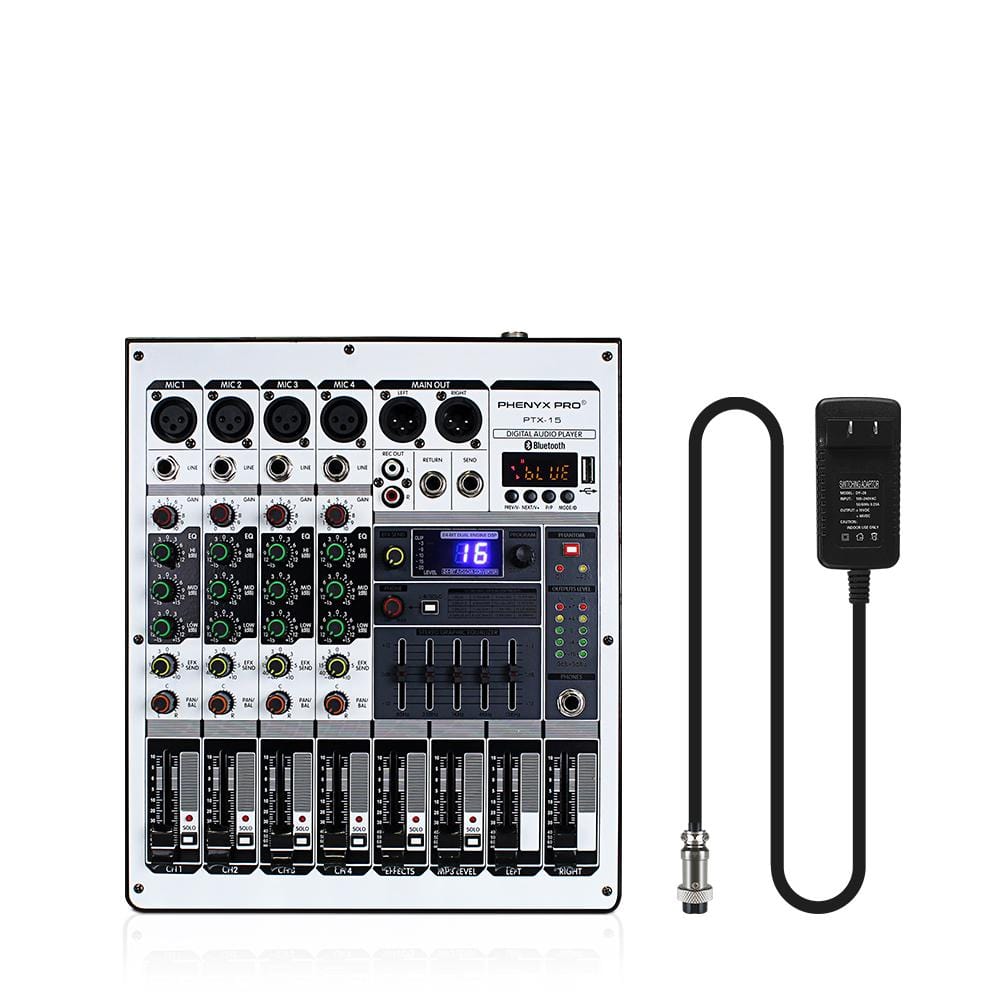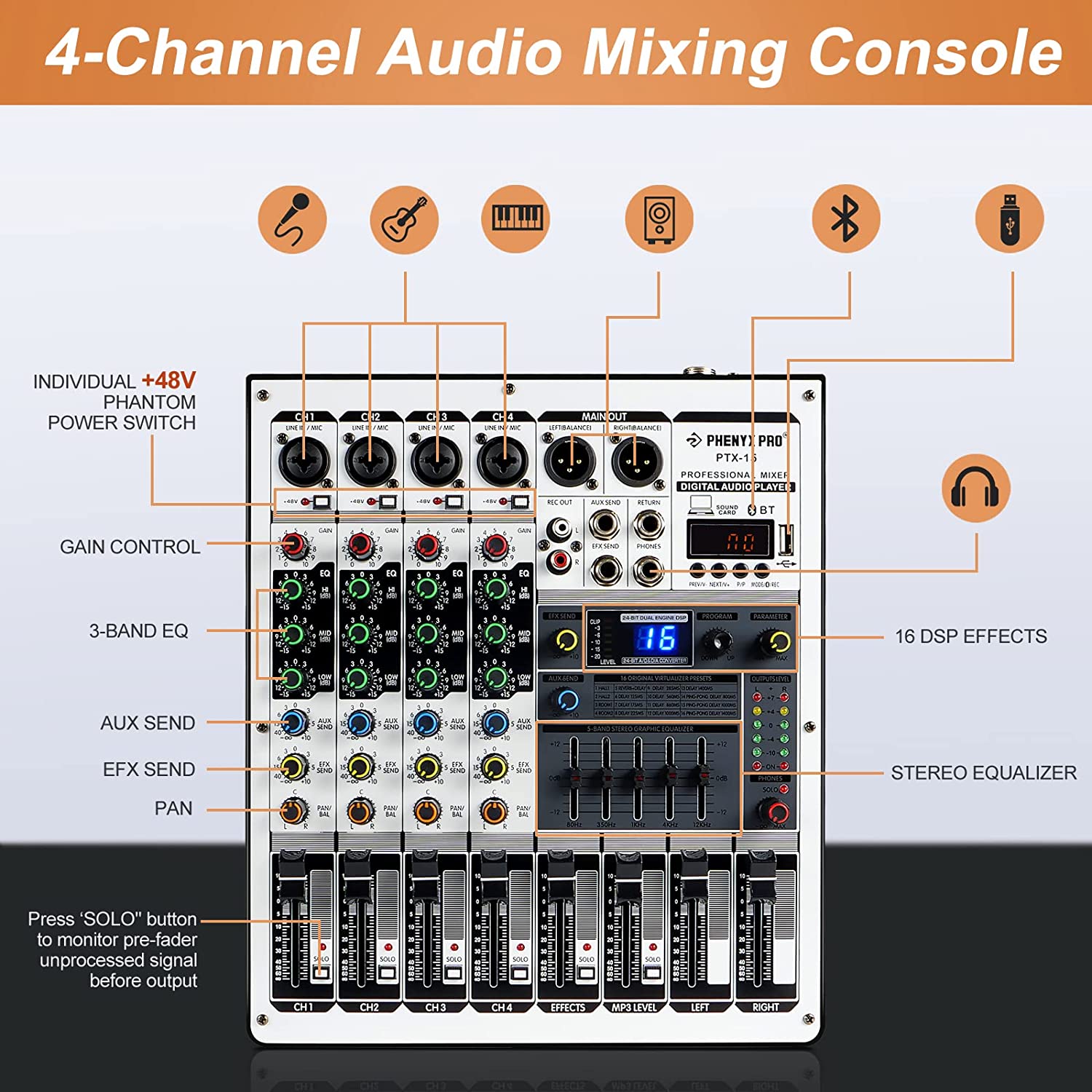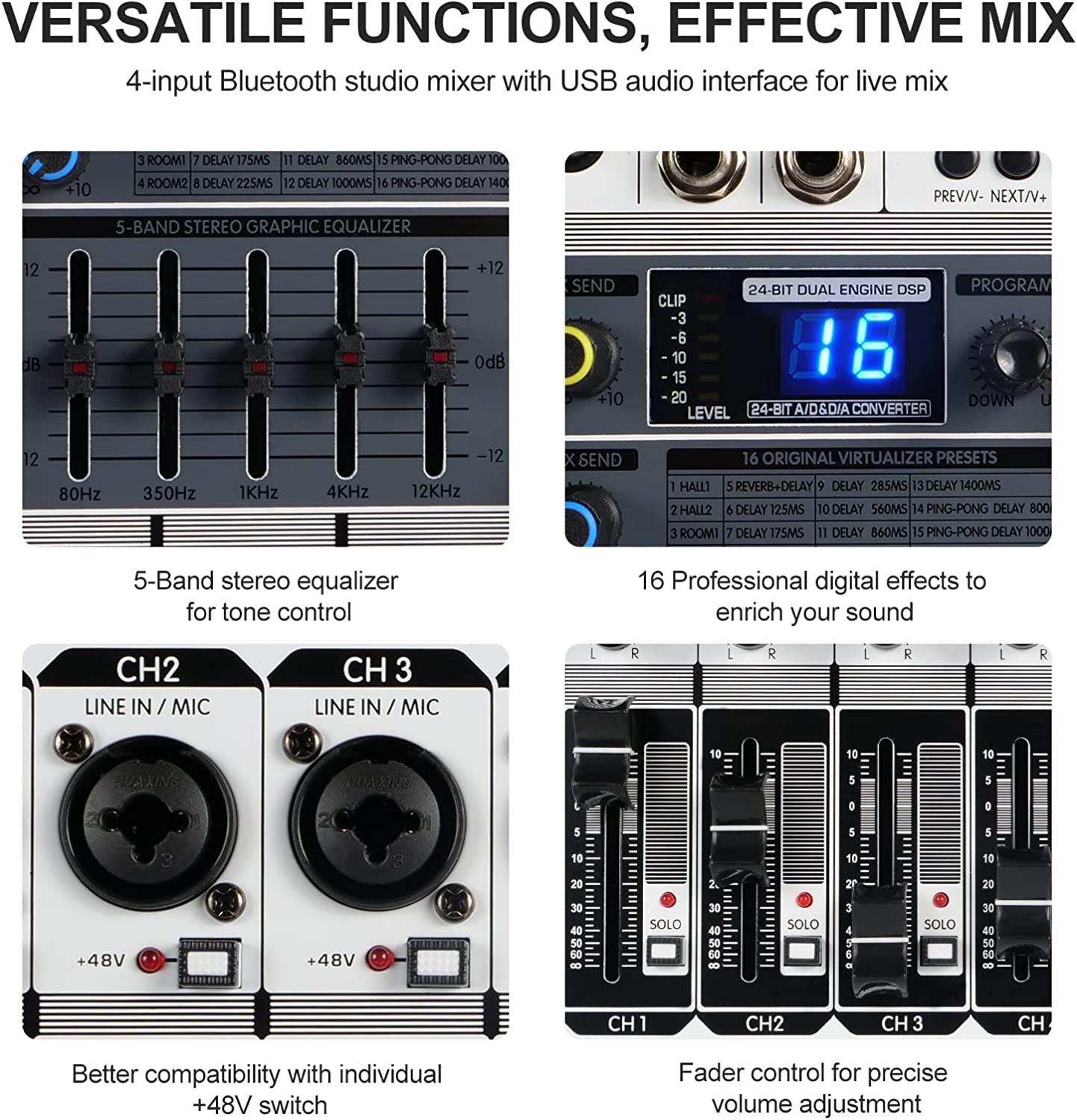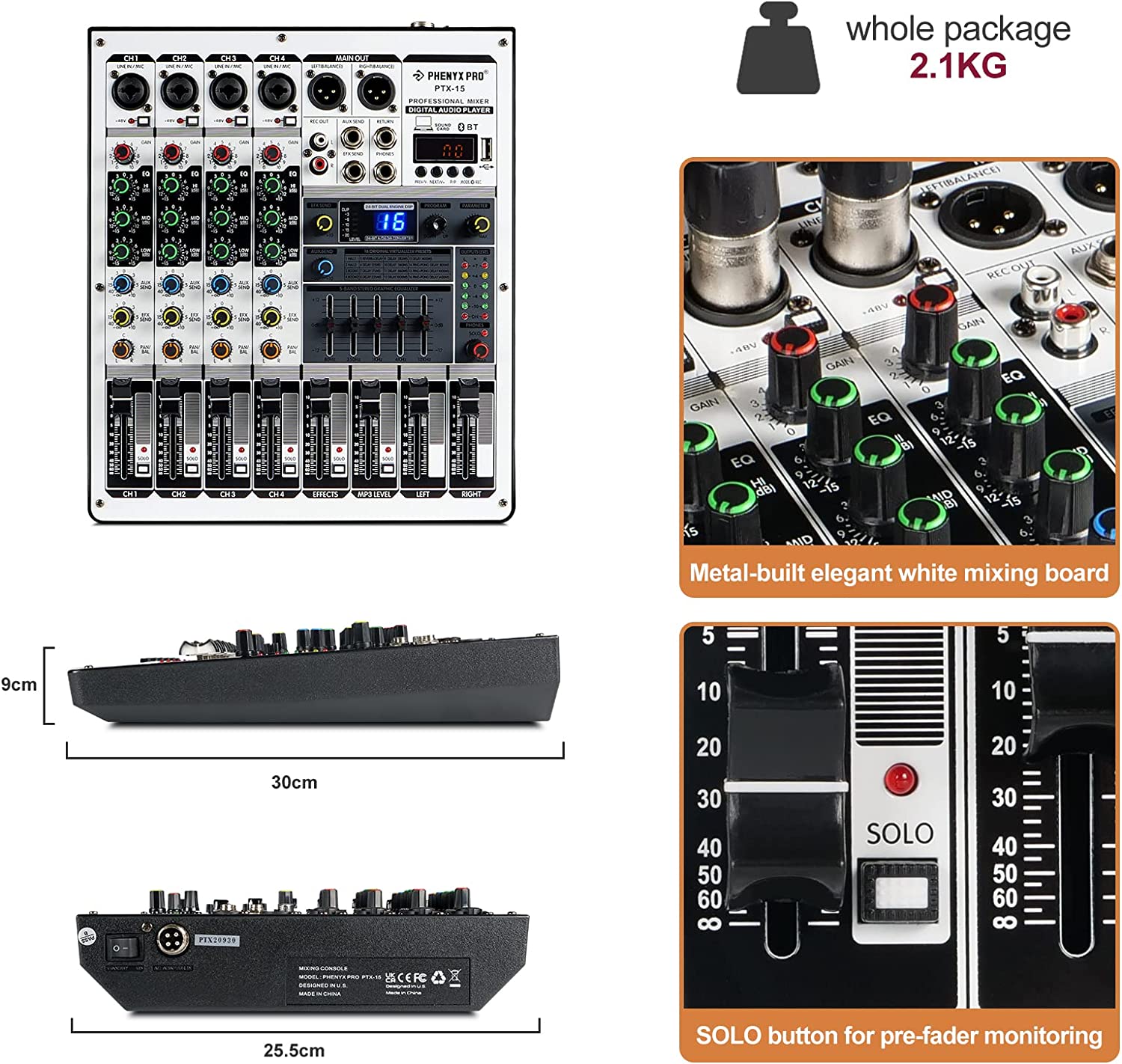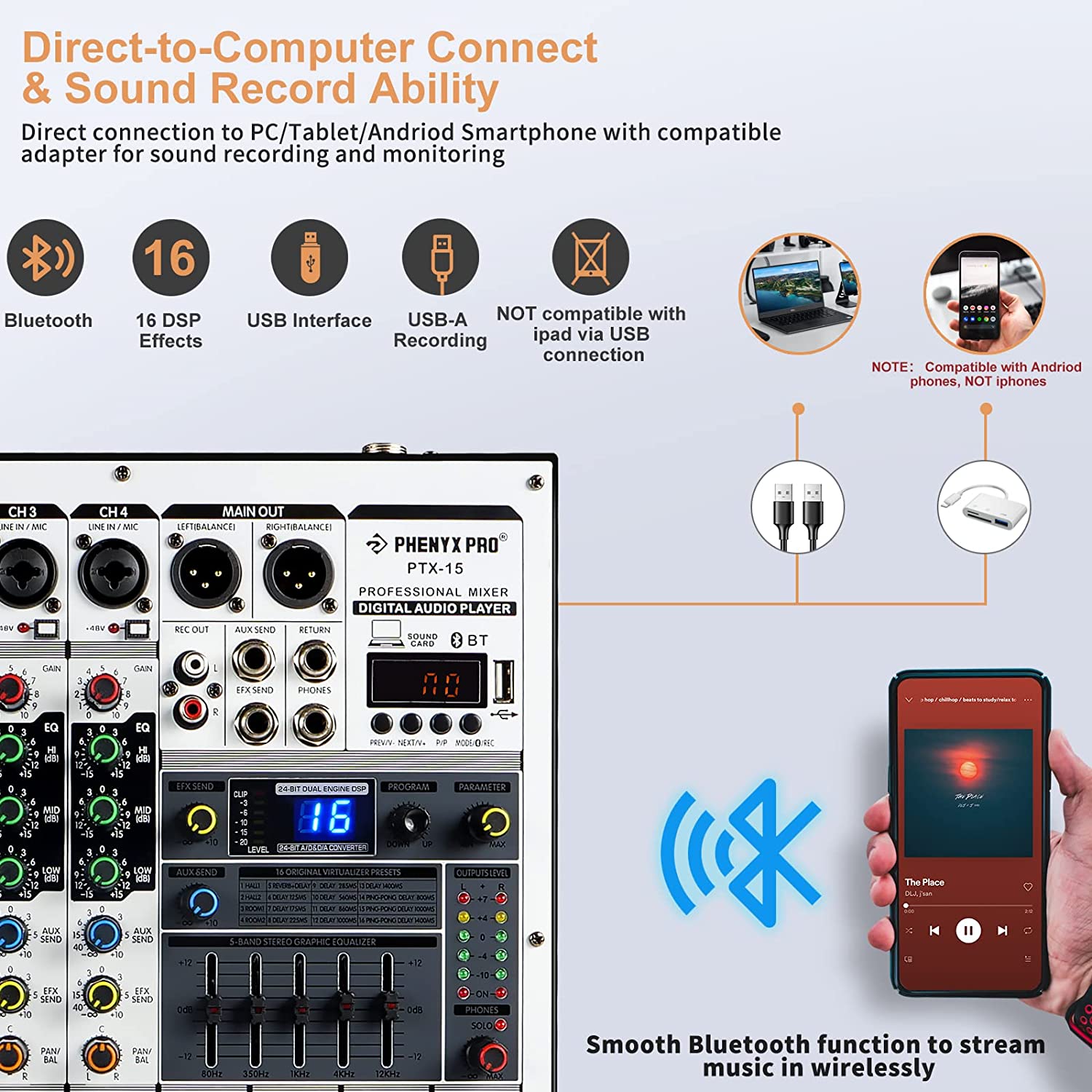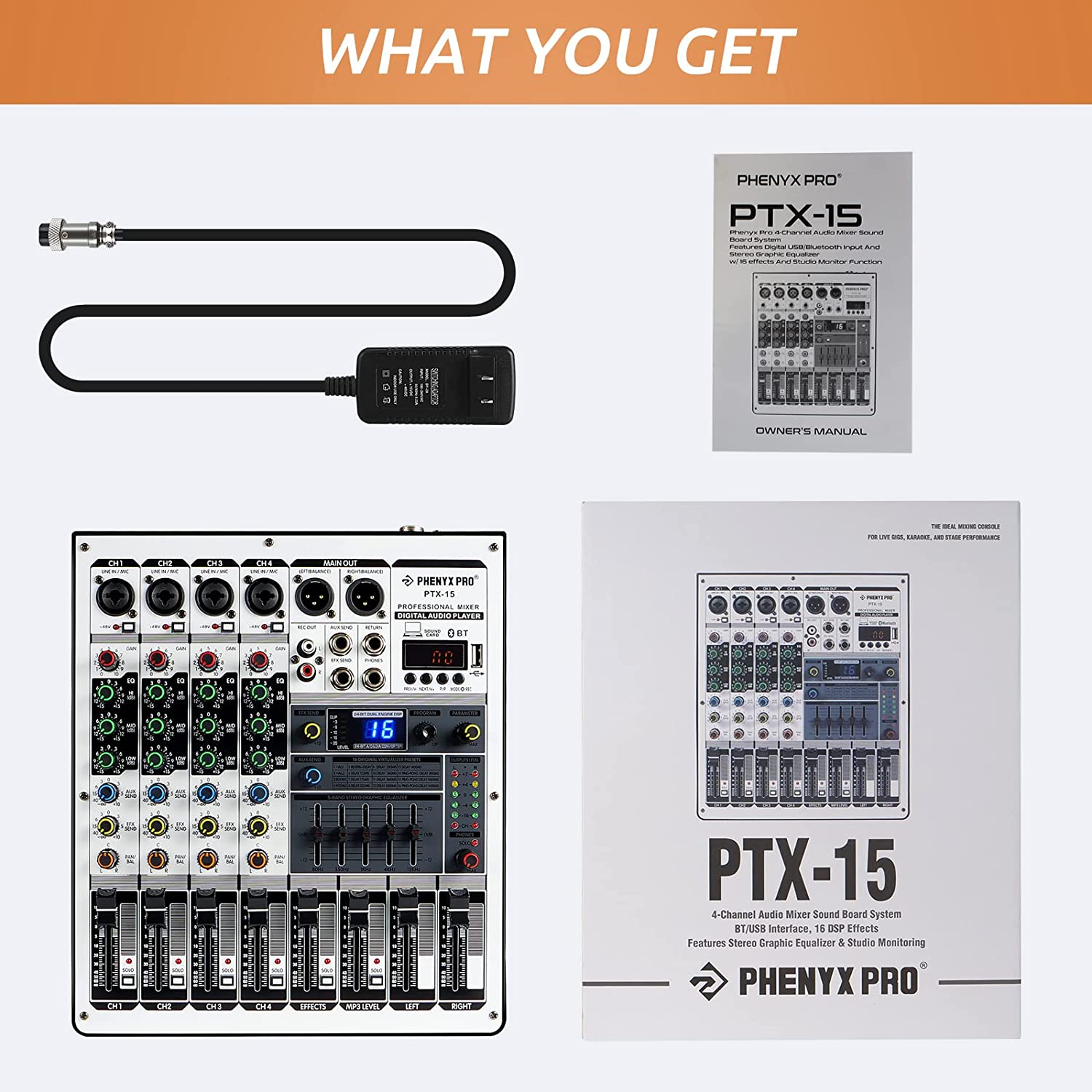 Phenyx Pro PTX-15 Mixing Console, 4 Channels, USB Input, Stereo Equalizer w/ 16 Echo Effects
4-INPUT, 3 BAND EQ, +48V Phantom Power: This professional ultra-low noise discrete mic preamp has 4 mono input channels with gold plated XLRs and balanced line inputs. The mixing board with ultra-musical 3-band EQ on all audio DJ mixer channels to imbue signals with incredible warmth and detailed musical character. +48V phantom power switches on all DJ board channels enable use with condenser microphones with ease

USB AUDIO INTERFACE /BT FUNCTION: This Bluetooth mixer enables users to wirelessly stream music from iPad/smartphone . USB audio interface with USB-A jack on the USB mixer can play audio from USB drive. This recording interface can also record to PC/iPad/Phone/USB stick with compatible adapters. Built-in controls to play/pause/switch between modes. ***CANNOT use USB and Bluetooth at the same time

STEREO GRAPHIC EQUALIZER, 16 DSP EFFECTS: Sturdy metal builds for durability and white color design for an elegant look. The built-in soundboard effects processor provides 16 DSP effects, with detailed documentation to provide a better personal mix. This 4-input audio music mixer also equipped with a stereographic equalizer provides tone control and precise high-quality sound over different frequencies.

HIGH QUALITY SOUND, VERSATILE USE: Extremely high headroom to offer more dynamic range. This studio mixer provides accurate, crisp and clear sound quality. The extra clean sounding effect makes it ideal for live mix in occasions like live gigs, shows, stage performance, DJ events, and karaoke. Besides, users can press 'SOLO" button the karaoke mixer to monitor pre-fader unprocessed signal before output.

DEVOTED SERVICE: Genuine Phenyx Pro audio products come with 12-month manufacturer assurance and supportive customer service. Welcome to come to us for troubleshooting or replacement of discontinuous/defective parts.



Note: The UPDATE version of the PTX-15 has individual +V48 phantom power switches. XLR inputs are integrated into the XLR+1/4 mixed input interface. Added AUX SEND control panel and output.
PTU-5000
One of the most beloved wireless mic system for small to large venues.
Reliable Performance
With the PTU-5000 receiver, you can expect stable and reliable performance for your events. Be it wedding hostings, public speeches, preaching and so on, you can put more focus on your message and let us take care of the rest.
Exceptional Audio Quality
Equipped with cardioid pickup pattern mic capsule, this handheld transmitter is able to render crystal clear audio for your performance.
Compact and Powerful
This compact bodypack transmitter can be your powerful tool. Outstanding sound in a small and neat configuration.
Long Operation Range and Stable Performance
With up to 260ft long operation range, you can go far without worrying about the audio.
Frequently Asked Question